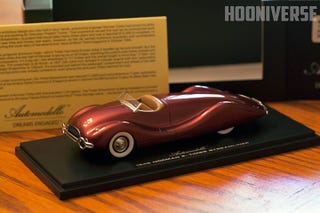 In the 1940s, a man named Norman Timbs set out to make a car of his own design. In 1948, that goal came to fruition when the Timbs Streamliner roared into existence. Its sleek all-aluminum body was hand-formed by the man who stuck his own name on the car, and the resulting shape is truly a work of art.
With a curb weight of just 2,500 pounds, the 248 cubic-inch Buick straight-eight had no problem pushing the Streamliner to a top speed of 120 miles per hour. The car became a cover girl for the second ever issue of Motor Trend, before it moved on to private ownership.
As happens to nearly all old vehicles, the car disappeared before it was discovered in a yard in the California desert. It was intact, however, and soon restored to its former glory. From there it was off to Amelia Island, where the Streamliner took home some hardware and has continued to do so ever since.
Now it's arrived on my desk… in 1:43 scale, thanks to the excellent artisans of Automodello.
The 1948 Timbs Streamliner comes packaged, like all 1:43 Automodello pieces, in a black box that covers a plastic display case. It's a very elegant means of displaying the car upon initial delivery. Owners can then either leave the car be or take it out and examine it.
I highly recommend the latter...