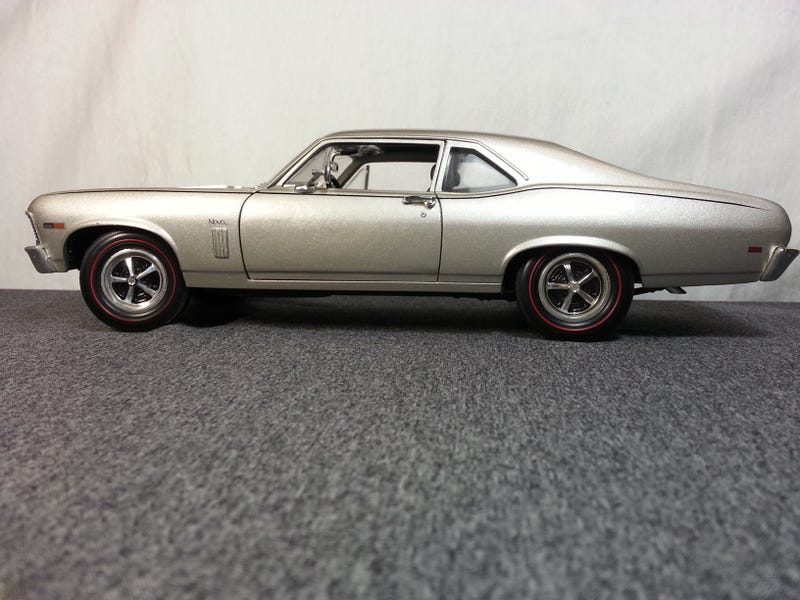 The big heavy Chevy that needs to return!
The Super Sport was transformed from a trim option to a performance package for 1968. One of the smallest muscle cars ever fielded by Detroit, the Nova SS now included a 295 hp (220 kW) 350 cu in (5.7 l) V8 engine along with a heavy-duty suspension and other performance hardware, priced at US$312. Optional engines included two versions of the big-block 396 cu in (6.5 l) V8 rated at 350 hp (260 kW) and 375 hp (280 kW), which went for US$348. Both engines were offered with a choice of transmissions including the M-21 close-ratio four-speed manual, the heavy-duty M-22 "Rock Crusher" four-speed manual, or the three-speed Turbo-Hydramatic 400 automatic transmission. A total of 17,564 SS coupes were produced for 1968. Novas sported the SS badge until 1972. Front disc brakes were optional on the 1968 Nova SS. (Source, wiki)
This Die-cast comes from the Etrl's Collectables: American Muscle line
Design and Accuracy: 5/10
For the most part it is pretty good. The shape and all the small detail items seem to be in place. All the trim is right as you can see in this front side picture above. engine bay is awesome! The underbody is very well done. Sorry that I didn't take a picture of it. the interior is also banggin! It's cool that this also just have the driver side mirror like the 1970 Monte Carlo and other GM products around that time. I think 7 is a ok score. EDIT: score down to 5, reason in comments :]
Fit and Finish: 2/10
Nope, I did not type that wrong. This a 2 for the score. Oh I am so disappointed with the quality of this awesome car. The main problem is the die-cast metal itself. It is a porous and extremely brittle. By the end of the review, the bonnet came off as did the door frames, the passenger side door it self. I can literally break the metal with my fingers. And because of the extremely shitty metal used, the paint look like if it was a real car that has rust developing and has no shine to it what so ever. All the trim is awesome and held on great, but anything that is metal is just crappy beyond all that is holy. A giant disappointment.
Features: 5/10
By now it's more like featured. It"had" and opening hood and both the left AND right door opened. Steering wheel works as usual. Boot doesn't open and no active suspension.
Value: 7/10
Pretty good. You can find these in the $25 -$40 range in various colors. I got this a looong time ago for $15 on clearance at a TRU that was closing down in my hood.
Rarity: 5/10
Not very at all. There are many different brand but these Ertl's are very common and available in many places. No Yenkos though, sorry BlazinAce
Final Score: 24/50
Oh man that is a looow score :'( Should you buy it, welp, not from Ertl that's for damn sure. Welp, as in most Muscle Cars, all that matter is the mow-tah! Here is one more shot of it :]