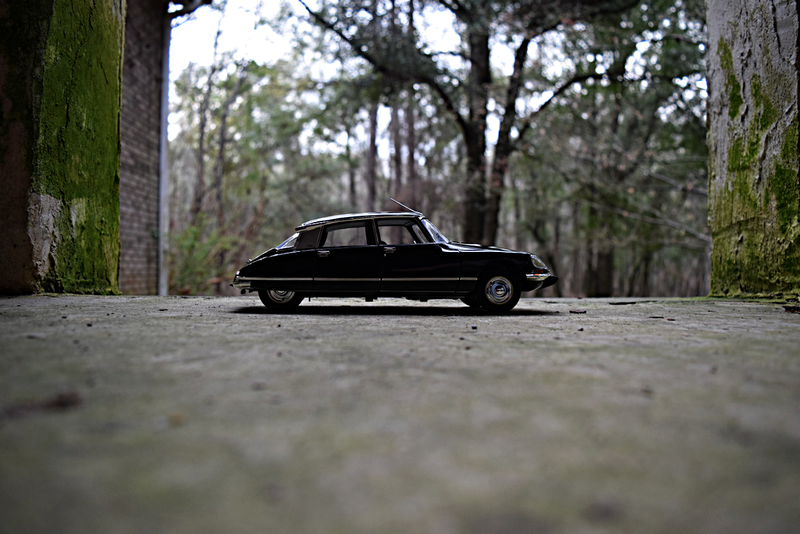 About ten years ago, while reviewing the Alfa Romeo 8C Competizione, Jeremy Clarkson posed the question of whether or not a car could ever be considered art. While there are many cars with which I could firmly say yes to that question, the Citroen DS is the one I feel the most confident about.
This car isn't just art, it's a Renaissance masterpiece.
The DS has honestly been the darling of Oppos anywhere. It's quirky Frenchness combined with its sensual lines and availability in estate format (which is also available by Norev for those interested), make it an easy contender in the race for most Oppo of all time. But, even before I joined Oppo, I always found myself moved by this sumptuous classic mademoiselle, ever since my mom told me stories of SMs and XMs on the road in her native Germany.
So as you can tell, the addition of this car to my collection was a no-brainer. It was difficult to find a decent model at a decent price, however. Standard Norev selections for the DS23 easily range in the high 100s on eBay these days, unless you buy the DS23 Break or Convertible models, which are still in production. I wanted the regular DS though, as I believe other body styles ruin the overall design scheme. I lucked out, finding a $70 model with a few broken parts that were easily fixed. Still looking for an extra wing mirror, though.
As I've said before on my review of their 1976 Mercedes 450SEL 6.9, Norev is absolutely top notch on details and build quality. While this one doesn't have the overall heft the Benz does, the DS still has the overall firmness and detailing that makes it stand out on its own. My favorite details are the addition of felt carpeting, and a rubber material on the seats to mimic the leather/vinyl found on the real car.
Something I really like about these Norevs is that they just have such a hometown pride for their French models. If I ever want to add another French car to the lineup, I know exactly where to go.
Honestly, sometimes I can't tell if this or the aforementioned Benz is my favorite model in the collection, and the two AutoArts I have joining the fleet (yes, I bought two, not just the one I mentioned before) are going to make it even harder. But, this Citroen has such a soft spot in my heart for so many reasons. It's one fo the ones I look at most often because I feel like those who know, and those who see it, would be able to look at it and say, "Man, that's a guy who knows what's up."
Oh, did I mention the rear suspension goes up and down too?