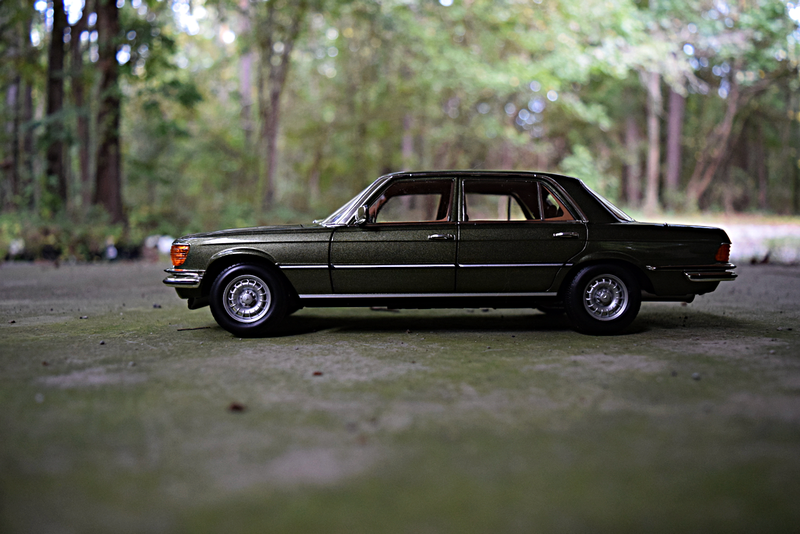 For some reason, I just can't get away from Mercedes-Benz diecasts.
I'm sure you all don't mind looking at great models from Stuttgart's finest, but I'm afraid of becoming a little too same-y in my collection (that's rich coming from the man who just bought two more Porsches to go along with his 996 Targa), so I might hold off on Benz models for a while. Nevertheless, I think it's refreshing to pause on a rather high note.
I've waxed poetic non-stop on my other Mercedes posts about how the older Benzes are just so much better than their modern counterparts, and even though my last post on a new SL65 actually ended with me reconciling my dislike for modern Benzes, I still hold that thought process to my soul. While my heart yearns for the 90s Bruno Sacco era, I know many push their love towards the 60s and 70s eras of long sheetmetal, diesel, and despot cars. So, why not point our faces towards this beauty: a 1976 450 SEL 6.9 by Norev.

My first "big boy 1/18," I chose this 450 SEL above all of the other Norev Benz models for one main reason: the color.
This 450 SEL, finished in what I believe to be Caledonia Green, is so beautiful. It stands out amongst a sea of models that you usually would find in silver and black, and makes such an emotionally charged statement of opulence and dignity unlike most other cars. A color like this only works if a car is designed the right way, and this W116 sure does wear that crown well.
In terms of how this Norev model is, I've got to say it is a well-done investment. When deciding on one of these big ticket 1/18s, the mind automatically goes to AutoArt or Kyosho, but even then I still chickened out as to actually dedicating that high dollar amount. I had heard some pretty great stories about Norev and how they offer AutoArt quality for a fraction of the price, so I took a chance, and I was pleasantly surprised.
The car has a definite weight to it, unlike all other models in my collection. You can feel the build quality, just by picking it up you can tell that quality materials were used here...these aren't the minor leagues at Maisto or Motormax. This is quality.
Don't even get me started on the detailing either. I've taken pictures from the right angles and fooled many a person into thinking its real. Everything from the finest perforation detail on the leather, to the three-pointed star that once stood tall on this model's hood (it got knocked off in the packaging shortly after I unboxed it for my first look at it...shame on me), everything looks great in this scale.
.I'll let that interior shot speak for itself. So, so good.
So yes, I believe that this is $110 well spent, and I'm really happy to have it in my collection. I think it's definitely sparked a fire in me to continue looking for good 1/18s to build with, and display them with proper care so that they retain that cleanliness. I haven't taken this car out of its box since I took these photos (mostly because I'm looking for a proper display case for it) and I can't help but look at it every time I walk into my bedroom. It's practically become my firstborn, and I'm naming it Gunther.
Either way, I love this model, I love this car, and I now love Norev deeply.