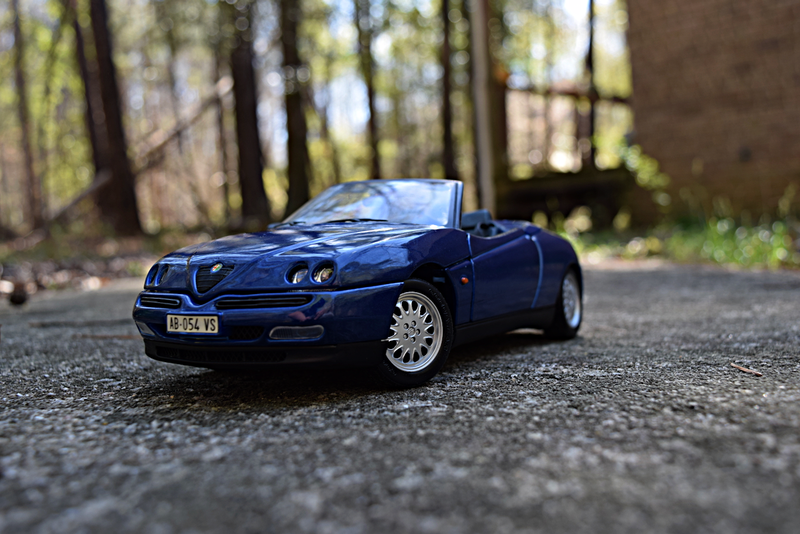 Spring has sprung, and Spring means convertibles!
Joining us today is the 1995 Alfa Romeo Spider by Maisto. The second of three versions of the famed Alfa Spider nameplate, this version was built based on the platform of the 90s Alfa GTV Coupe, which means it's FWD and powered by the buyers choice of a V6 or Inline 4. Perhaps mechanically, it was a dark time for Alfa, but it definitely wasn't the case for styling.
I've seen some people call these old Spiders ugly, due to their strange bug-eyed appearance and small Alfa heart grille in between. I think it's a striking shape, a bit odd in some areas, but pretty overall.
After all, the GTV coupe that this is based off of is where Jeremy Clarkson spawned the whole, "If you don't look back at your car when you walk away, you bought the wrong car," spiel.
But how is this model represented by Maisto? It's really hit or miss.
This comes to us from the early 90s where Maisto was really getting off the ground in terms of taking the 1:18 market by storm. They did some really good bits here and there, but there's a lot of missteps in terms of quality and detailing that later models definitely pick up on. I go into more detail on my review of the Mercedes 500SL by them that I also have, where in some angles it looks painfully like a toy, and other areas the detailing is phenomenal.
For instance, I really appreciate the detailing in using an actual piece for the engine, rather than embossed plastic with paint that you might find on some later models. The engine detailing in this spider is just about as painfully gorgeous as the real thing.
The detailing of these Alfa wheels is quite great as well, where some brands might falter due to its complex deisng.
Overall, the car in question is a favorite of mine, but the model is not the best out there. Still though, it was a gift from a good friend of mine, so it's special to me, and a jewel in my growing Alfa Romeo collection. Nevertheless, I thought it would be great to use this car to celebrate the coming of spring. So put the top down and let the wind blow...it's good times from here on out.