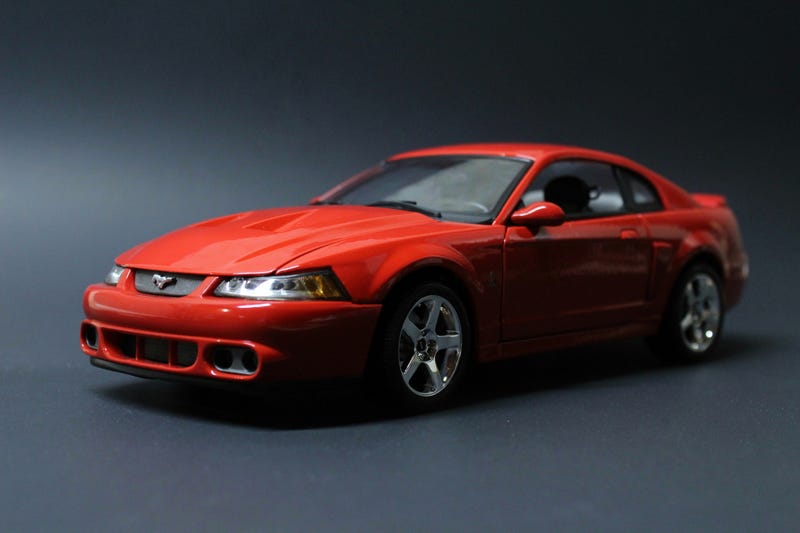 It doesn't get any more American than this. Take America's sports car, tune it, make it badass-er, then supercharge it. You end up with this, the Terminator.
More specifically, it's the 2003 Ford Mustang SVT Cobra; code named "Terminator". This is Maisto's highly sought after 1:18 scale model of the beast. So highly sought after, in fact, that you'd be hard pressed to find one of these second hand for under a $100. Yes, for a Maisto.
Developed by Ford's Special Vehicles Team, this Cobra was built for only two years: 2003-2004. Slaying tires was easy thanks to the 390hp 4.6L Eaton Supercharged V8. The Cobra also got aesthetic improvements from the OG Ford GT's design chief. This Mustang was an instant classic, and depreciation isn't going to help you much if you're looking to pick one up today.
The model is certainly one of Maisto's best. The lines are straight and smooth. The doors shut with a clunk. The tampoed badges are clean and accurate. Even the suspension works, as you would expect from Maisto.
What about the bad? Well, the grille is a solid piece of black plastic. It doesn't try all that hard to convince you that it isn't really there. It needs to be more recessed to be less prominent. The other complaint I have is the mounting posts for the lights, which you can clearly see in this shot above.
Under the hood we find a moderately detailed engine. Maisto made the best of it by highlighting different features, but it still looks like one or two lumps of plastic. I'll tell you what though, warning labels always make my day. That supercharger is a beast too.
I was surprised to find one on The Devil's Auction Site, formerly known as eBay, for only $30 with a handful of bids. There was only a short amount of time left, so on the watch list it went. I knew this would be a battle, and sure enough a bunch of snipers including myself, jumped on it in the final seconds. My bid prevailed at $75!
So what do you get when you drop close to a hundred bucks on a Maisto? Well, a Maisto...
Don't get me wrong it's a badass model, but I certainly got caught up in heat of the moment. It's a rare piece no doubt, but I started to second guess myself the moment I opened the box. I'm not sure why my expectations were so high. This is just a Maisto after all.
Nevertheless, it's still pretty to look at...
I tried something new with the lighting. I'd tell you what I did, but I honestly forget! I think it was just a desk lamp off to the side with all the other lights off.
You can see what I mean here about that grille. It actually sits on top of the front facia, but would look so much more convincing if it were tucked underneath.
A wild Cobra R appears...
Another fantastic Maisto Mustang from the "New Edge" era. A far more common model too, you can easily find one for less than $20.
See how much better the grille looks on the R? OK, I'll stop complaining about it. Still, this is a good pair of Mustangs for the old display shelf.