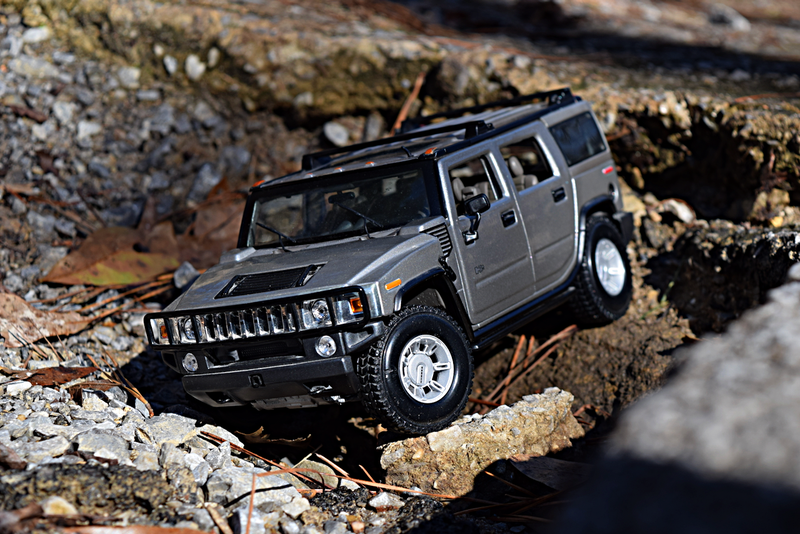 Hummer is a brand that seems to hold some sort of enigma in the car world. Everyone knows the name and what they did, but you hardly see people clamoring for Hummers, even though they seem to hold such great value 10-15 years down the road. Everyone you ask seems to agree: Hummer is a thing that happened, and within the course of 20 years, they came and went, never to be seen again.
I, for one, rather like Hummer. The common misconception is that all Hummers, except for the original HMMWV/H1, were reskinned GM SUVs and Trucks with a more aggressive body. That is not entirely true, as the H2 and H3 actually had a lot more heavy duty suspension tuning for off-road use. Take the H2 we see here today. I believe the misconception comes from a rather awful Top Gear review (one of many), where Clarkson really wasn't the proper audience for a truck like this. He called it a rebadged Chevy Tahoe, which is far from the truth, as the H2 actually used a lot of parts from heavy duty and military versions of the GMT800 platform, earning it its Hummer name.
But, I digress...
To sum it all up, I love Hummer, and I especially love the H2. It's a vehicle that was ingrained permanently in my early-2000s childhood. Back then, if you had one of these, you were somebody. Rappers, politicians, football players, all the like, drove H2s alongside their Escalades and Range Rovers. It's really astonishing when you consider the fact that these have the aerodynamics and build quality of a large tin shack.
I'd hardly call the H2 a pretty vehicle, but the design is endearing. The watered-down military look was absolutely perfect for the Bush administration...it truly made you feel like you were king of the road. An admirability that is perfectly captured here in this Maisto 1:18 version.
Frankly, when I was browsing the eBays for one of these models, I wasn't expecting much. They commanded such a premium, though, which surprised me a lot...almost too much of a premium for a 15 year old Maisto. But then I mentioned my interest in passing to BlueMazda2, who said he had one and was willing to trade for my 1/24 Bburago Stelvio Quadrifoglio (I'm getting another, don't worry). So I said yes, and when I got it, I was pleasantly surprised.
First and foremost, build quality on this model is standard early 2000s Maisto. It's a mix of diecast and plastic that feels solid in some areas and brittle in others. The model has definite weight to it, but it still loses out to my Norev W116 in overall heft.
What I was surprised by were some of the details. Between this and the R129 I posted about the while back, it's really a case of "don't judge a book by its cover" because once you get inside and really take a look at what you're dealing with, you'll be greeted with a lot of nice attention to detail.
Every gauge is picked out in the H2's distinct white background with black text, every radio dial is individually printed with the white logos and font, even the H2's clunky military-style T-bar shifter is present. What a treat this interior is.
But the biggest surprise comes with the hood department, where it actually features functioning hood clamps to keep the entire hunk of metal down, and a functioning lowering bull bar to allow ease of opening. While the clamps don't exactly work like the 1:1 model, it is such a neat little feature to move the little plastic bits out of the way to open up that distinct clamshell hood. When BM2 told me of this feature, I was honestly sold...and I like to think that's why it's so popular.
On the outside, the H2 is just like any other Maisto model of the era. It does its job well displaying the type of car it is, and not much more. But it's really when you get down into the details that went into this thing, you start to gain a larger appreciation for it. The real life H2 has gone down in history as a product only the 2000s could produce, but this model might go down in history as one of Maisto's best.