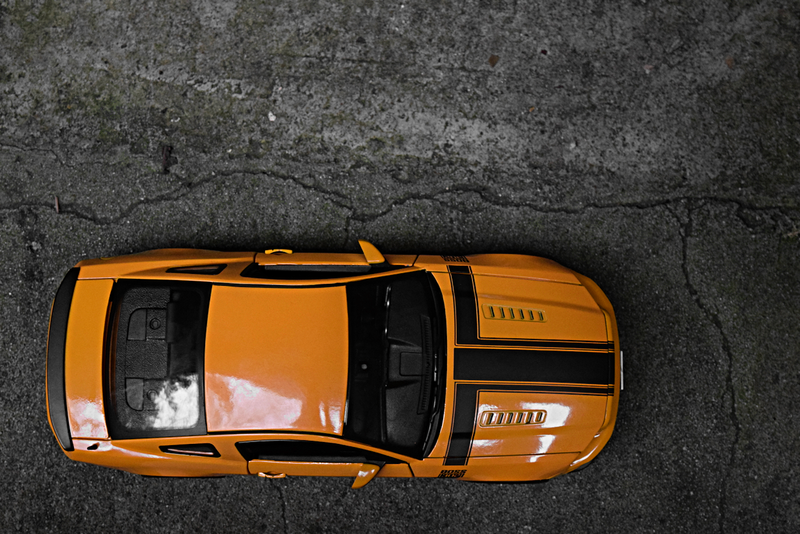 "I've always been asked, 'What is my favorite car?' and I've always said 'The next one.'"
Carroll Shelby has been known for many things. He gave us the Shelby Cobra, the Ford GT40, the GT500, and most importantly, the Dodge Omni GLHS. But inspiring a quite under-appreciated die-cast brand was definitely not one of the things he's most known for.
I should probably begin by coming clean: this diecast does not technically belong to me. Its permanent home is actually with our good friend BlueMazda2. I was recently at a car show where a diecast booth was held, and he noticed this in a photo of it and PayPal'd me the money instantly to buy it. I'm happy to say that his money was well spent, and it's been an honor to hold onto it for him, but more on that later.
For those who have lived under a rock, the Boss 302 was a track edition of the Mustang built originally in 1969 and leading to 1970, when Trans Am racing was at its peak. The Boss 302 from the factory was essentially a road-going Mustang sold with a racing-spec motor, which inspired a few other Boss models to join the rankings, such as the 429 and 351 prior to its launch.
The Boss returned to the showroom in 2012 with an all-new version of the package, once again with a track-focused idealism. Featuring an upgraded version of the 5.0L V8, weight-saving attributes throughout, and an upgraded suspension, the Boss 302, was at the time, quoted to be the best handling and driving Mustang on sale.
The Boss 302, which I have actually have had the pleasure of driving in real life (or lack thereof, really, since the one I drove was shoddily tuned), is recreated with a lot of great attention to detail in this Shelby Collectibles model. As a huge fan of this model 302, I know that BlueMazda2 will enjoy it just as I have.
Shelby Collectibles is a brand that I honestly hadn't paid much attention to before now, but now that I've experienced what they have to offer, I have to say I am a fan. But, there is a certain somberness to that statement, as I don't believe they're operating anymore. Nevertheless, I can see a Shelby Collectibles model of some sort joining my personal fleet soon.