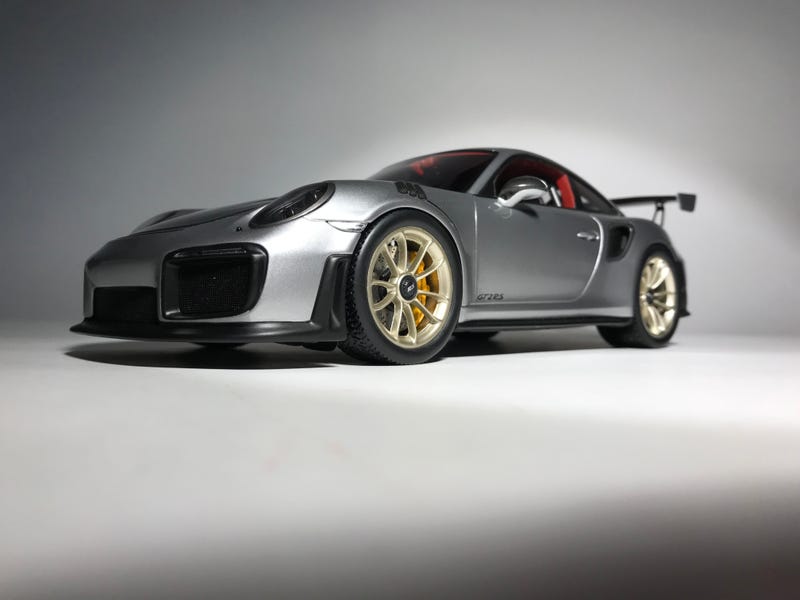 700HP and 553 lb-FTC of torque. That's the mind numbing power coming from the Turbocharged 3.8L H6, that propels a 3241lb Car to 60 in less then 3 seconds.
This is the most out of place car in my collection, and my Car Week line up. But, at this time, this is my Grail of my collection.
The Porsche 911 GT2 RS is my all time favorite car, and for my 19th Bday, this model was practically all I wanted. But, surprisingly, only one company makes the GT2 RS in 1:18 scale, and that is Spark.
This is a resin casting, with no opening features, but the paint work memorizing. Not to mention the attention to detail. And,frankly? I'm glad it is a sealed cast. I would hate for the interior to get dusty. But look at the steering wheel! It has a black stitching on the inner ring of the wheel. Just mind blowing stuff.

The wheels not only have tire studs, but the RS is in line with it. Such a minute detail
The paint work is extraordinary, and plays with the light in such a cool way. I didn't realize just how high quality it truely was until I brought out a 1:18 Maisto Porsche Carrera GT concept.
You may be noticing the lack of black stripes that accompany most GT2 RS, and featured in all the promotional pictures.

This is because that stripe package is a result of $31000 Weissach Package, which removes 40lbs from the car, (60 in Europe) but is otherwise essentially an appearance package.
While I would prefer it to have the Weissach Package like the other cars in the picture, the only model to have it where in colors I didn't want, or the $700 1:12 scale car.
That being said, in Weissach Trim, this car managed to beat the Nürburgring lap record, at 6:47.25, smashing the last record by 5 seconds. 6:47 matches the time of the bat**** insane track only Pagani Zonda R.
This car is #0614 of 1911, making this relatively limited edition. While made by Spark, this car was bought from Porsche, and had to be flown out of Porsche's Atlantic HQ to my local Porsche dealership.
I hope you guys all enjoyed, as this is by far the best thing I have to show for Car Week.