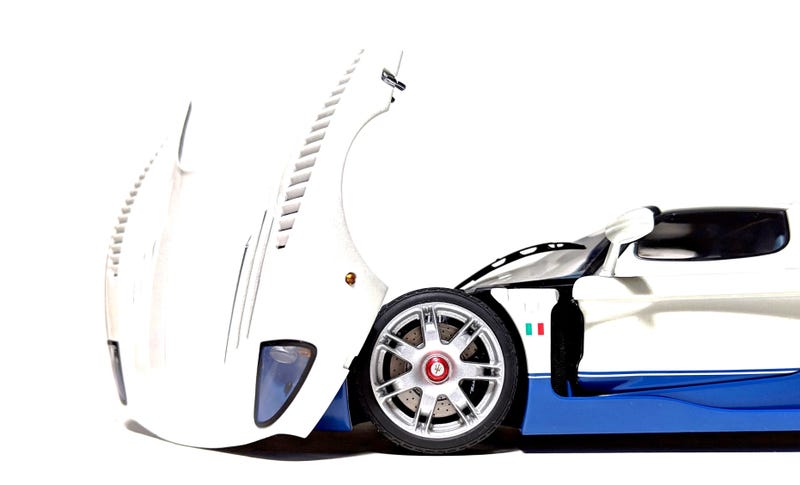 We're ten days in and I'm still here posting about 2018 things. Nonetheless, I'd like to give some attention to some of the older models that I've been fortunate enough to snatch. Old is relative, because some of these are actually still in production/readily available today. I know there's a few 1:18'ers here that live for the evilbay hunt, and those people understand that feeling when you find a rare piece for a bargain. One guy even specializes in "boxless specials", as he calls it.
Anyways, boxed or not, here they are:

I'll start with the AUTOart Lamborghini Reventon. It wasn't long ago that you could find these pretty easily, but stock has dried up suddenly. I finally decided I wanted one for the collection, and I came across an auction for one of these - which I won for about $110 total. It's such a fantastic model (the Reventon has a wealth of beautiful little details in its design) whether you love or hate the car; this would be my numero uno if I included it in the previous list.
The overexposure makes this photo garbage, but one of my most significant finds was the Diablo SV by AUTOart. I have it in black/white already (which is still the better colorway), so I wasn't exactly looking to get another. But this yellow example - the rarest of the colorways - came up for $150 with free shipping, at which point I hit 'Buy it Now' superveloce. You normally don't even find these for $250, if you find one at all. The devil arrived with a heavy dose of aromatic cigarette smoke so, if you don't hear from me again, it's likely because I died of second-hand exposure. I may have said this once or twice before, but you really can never have too many Diablos.
Ever since I got rid of my Maisto (bleh!) a couple years back, I've been looking to fill my LaF void. And over time, I determined that Giallo, not Rosso, is actually the best color for this hyper-Fezza. The red ones are too expensive anyways. The result is what you see here. With one of those 15% codes, this one came out to about $100 in total. Panels gaps and overall quality isn't the best, but neither is a Maisto.
When the "Foundation" model is too basic and the Kyosho is too expensive, you have to settle for an "Elite" Testarossa. Ultimately, though, this is still a very old casting and all the parts comprising this model are very crude, so it doesn't feel at all like a HWE model. The good thing, though, is I was able to win this one for a thrifty $75. No harm done, 'Rossa added to collection, and I can move on to hunting other 'Rari's.
When your Elite isn't good enough, you go for the Super Elite - not because it's lacking, but because you just love the 599 that much to get another one. The model is inherently flawed because the wheels are too small, and not even this upgraded Super Elite version can fix that. The details really aren't that much better than those of a standard Elite but, at a bargain of $120 shipped, I couldn't say no to the most gorgeous Ferrari of all time.
That's right.
OMG!
AMG!
I seriously can't get enough of these German muscle cars, but the market prices of some of the older AUTOart AMG models are ridiculous. Take a look at the S63, for example, which typically trades for roughly $400. The C63 isn't as eye-watering, but you'd have a tough time finding one under $200. This one came with a broken mirror which, rather than being a detriment, is low-key a golden opportunity to get an expensive model for cheap - if you don't mind sparing a couple minutes for repair time. I'll take it for $120 shipped, thank you very much.
Once upon a time, I owned a SN95-generation Bullitt Mustang. Not the real thing, mind you, but a miniature of it. It was my favorite toy. A wheel even came off because I played with it so much. Then one day, a thief barged into my house and stole it. Details of suspect: late 20's/early 30's, kind of short, employed by Maisto. If you know this person, please contact the police department.
Nevertheless, I replaced it with the better-looking one. This Bullitt needed some cleaning, but all parts were there with nothing broken. For just $75, it was also a hell of a deal.
One that arrived last week was this Shelby GT500 from AUTOart, white with red stripes. I think a lot of people forget about this model and the fact that AA even produced a street version GT500. I'm not too fond of the color combo, but you gotta take what you get. After winning the auction and throwing in a well-timed eBay code, I took it home for $75. A quick search tells me that the cheapest one at the moment is $300. What?!
Cause: eBay throws out a code.
Effect: buys NSX.
I do prefer the Onemodel NSX over this one, but it's pretty obvious that one doesn't pack the plentiful features of the AUTOart.
2018 was the year of cheap AUTOarts. I read somewhere that the discounted models are B-grades: they have minor flaws (no broken or missing parts, or anything like that) that AA couldn't sell at MSRP. Not sure if that's true but, since I'm not too picky about quality, I'll go ahead and save myself some coin. Come to think of it, all of the ones I've purchased do have rough spots here and there. This Canon inkjet looks like it's been screwed to the box too tightly, so the rear stance is slightly compressed. For half the original price, I'm not complaining. And if you're a smarter shopper than I am, you could've gotten one of these for half of even what I paid.
I will conclude with the first model seen in this post. A half-off deal earlier in the year, this MC12 puts the 'art' in 'AUTOart' and is a true centerpiece for any collection. The defects on my particular example look to be a couple of stray sticker marks - nothing much to worry about. Considering the merits of the model and the significance of the car, this was the deal of the year in my opinion. It's the lead photo for a reason.
So that's it! Hope everyone's finds this year will be even better than last!