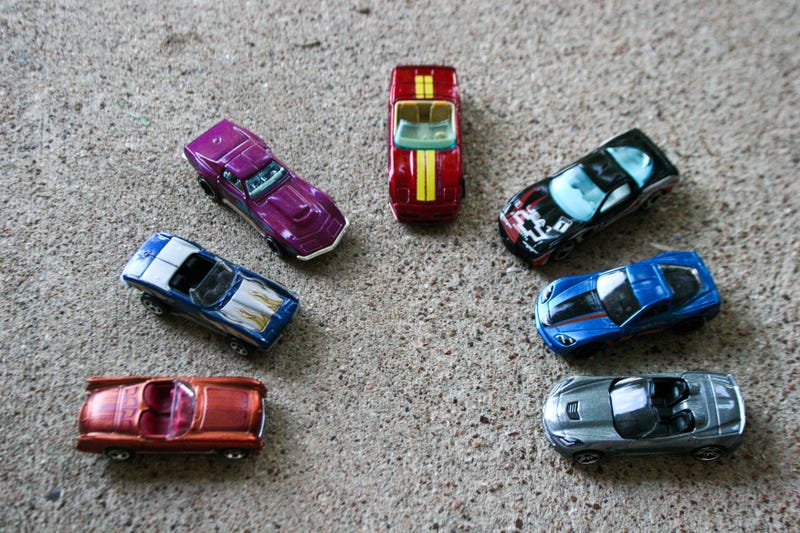 With many thanks to Sn210 for the C5, my generational Corvette collection is complete (for now).
I was really excited to get the C5 added to my collection and I feel like the family is finally complete. I had a ton of HWEPs coming my way over the last few weeks and two of the above cars were crucial to filling in the gaps.
The purple C3 came from Carnage717 and the post I made about those cars actually led to the C5 HWEP. The C4 is an older cast that I've had since I was little. I'd like to find a newer one to place in my office collection but I'm in no big rush after all these exchanges.

Now that I have those out of the way, I thought I'd share some other HWEPs and HAWLs I've gained in the last few weeks.
Below, the purple C1 also came from Carnage717. The Fast n' Furious-edition Grand Sport roadster came from Camshaft Chris. The kick-ass 'Murican flag SR2 arrived along with the C5 from Sn210 because he's awesome. The Greenwood is from Roundbadge and one of the best Corvette casts Hot Wheels has done. I was really excited to add the Greenwood to the collection.

Now for my unexpectedly growing Lambo collection. The Sesto Elemento and the Veneno both came from Camshaft Chris, joining the random Ursus I bought months ago on a whim.

Camshaft Chris also sent me these matching Brits. I've wanted an Aston Martin DB5 for awhile and the DBS doesn't get shown up too badly by it's older sibling.

Now for some Chevys. I bought the Camaro at a grocery store a couple weeks ago and the Flashsider came from Walmart on Friday night. The 'Murican Corvair (Vairy 8 in HW parlance) also came from Sn210 (it and the SR2 were from Fourth of July cards).

And finally the Ferraris. The 458 and the F12 aren't that new. They came from Carnage717 and were posted about before. The LaFerrari (in beautiful rosso corsa) was sent my way from Roundbadge and is also a welcome addition.

My camera is a bit old, my lens is broken, and I never have been that good at macro stuff, but I enjoyed taking these photos. Thanks for reading.