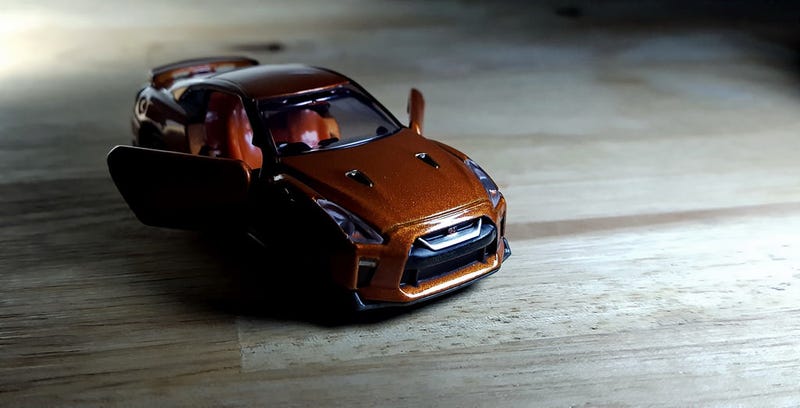 One of the newest casts from Tomica... the 2017 R-35 Nissan GTR. Actually the color is not as "orange" as one might think... it looks more like a bronze shade, but it still looks great. :D

Comparing it to the previous Nissan GTR cast from Tomica mainline (pictured above)... this new cast is a huge improvement.

On the old cast, the wheels seem a bit off in that they "look too small" and seems to jutting out of the wheel well. On the new one... they look more 'proportionate' to the body. The body itself, just by looking at the wheel wells, seem to look lowered. Maybe its a larger wheel? Or maybe its due to the larger body kit parts underneath the car?
When in the old one there was just a slab below the front bumper...on the new one, they've fitted good looking splitters/spoilers on the front. Which reflects the new redesigned nose of the 2017 GTR perfectly. There's also a bit of a molded 'side skirts' on the sides. :)
There is still a bit of a suspension built in to the cast. And both the doors open... as in the previous cast.

thanks for viewing,
cheers!