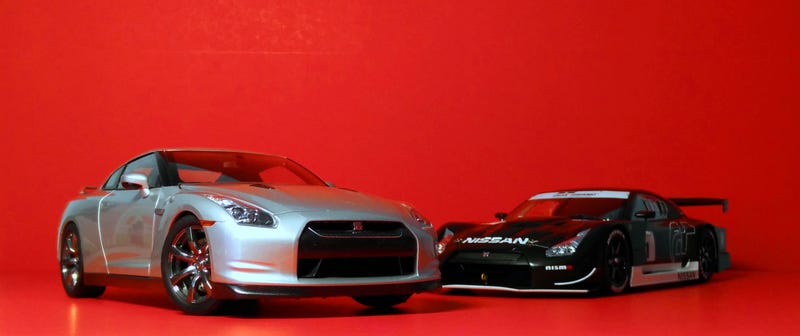 So here's the deal. I picked up a Kyosho 1/18 Nissan GT-R (R35) in silver, shown on the left, off the 'Bay for $75 shipped. It was such a great deal I had to do it. The problem? I already have the exact same one, which means this one is up for sale or trade. I know not a whole lot of you here have R35's in 1/18, so here's your chance to pick up a somewhat-rare model. I will prioritize trades first if you have something I want - it would be super dope if someone had a white or red one to swap (or one of the AA colors except grey). Of course, the trade is not limited to just GT-R's, so let me know what you've got!

This R35 GT-R is essentially in mint condition. I've cleaned off most of the dust, but it is missing the license plates - I will look for an extra set of plates from the two Kyoshos that I already have and include them for you. Comes with the box too, in great condition! In my opinion, the Kyosho is more attractive than the AUTOart for its gunmetal wheels, and silver is absolutely the best color for this model. Long story short: it's beautiful, and it won't disappoint.
Otherwise, I would love for a LaLD member to adopt it, so I'd totally be willing to let it go for only what it cost me. That's $75 plus shipping to your area, which could range from $7-20 depending on how far away you are from the west coast. Let me know below!