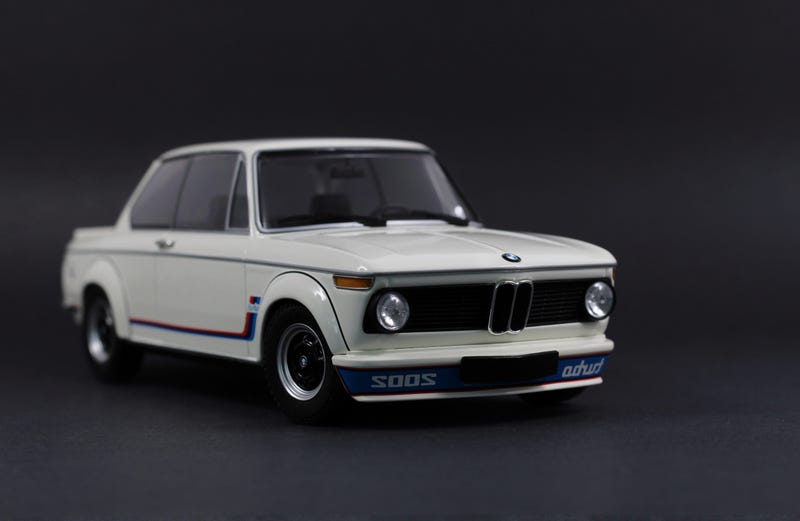 This is a rare case when the sealed diecast model is actually the one to get versus its fully opening counterparts. This recent release from Minichamps was by no means a bargain, but when the alternatives are twice or triple, sometimes even four times more expensive, you jump on it.
I hit up our main diecast dealer-man Citizen Patrick on the red LaLD phone and had him procure me one of these at launch. I like my kidneys too much to give one up for a legendary AutoArt or Kyosho. Getting burned on auctions for lowly Ansons going for over $100 grew tiresome. Enough was enough; a sealed diecast car was the trade off I was going to have to make to get this icon on my shelf.
Patrick's customer service is second to none; he kept me updated with the status of my order and even included a hand-written note in my expertly packaged shipment. Surprisingly, this was my first order through Model Citizen! I unfortunately missed out on a lot of gems when Patrick was running his "LaLD Model of the Month" promotions due to my employment situation at the time. I had such a good experience with Patrick's concierge service though, I've been bugging him for four more pre-order models coming out later this year!
On to the model: it is what it is. Its a sealed diecast model, not resin, which costs the same as a resin model of the same caliber, but I'm not allowed to complain to you guys that the car is "expensive plastic" or whatever we say about resin models these days. Now that I've got a few of each in my arsenal, I have to say I prefer my sealed models resin. My Otto's and GT Spirits weigh the same as this little guy, but the paint and the body detail is miles better than this MC, my E28 Norev, and my two Triple9 models. Minichamps's model is definitely the best out of the diecast bunch, though.; the 2002's front wheels still steer and are pose-able .
These cars should be fairly easy to find, if you should want one for yourself. At around $100, they're nothing to sneeze at, but there should be plenty of outlets to shop around. Its still a recent release, and Minichamps did a white and a silver one. I basically just found a million of them for sale from all kinds of vendors. You could ask Patrick to get you one too...
Thanks again, Citizen Patrick!