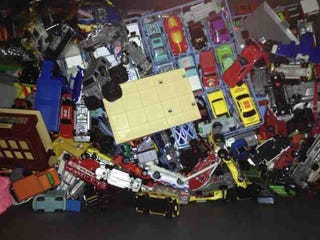 [Edit: while searching for more sources, I found some really good ones on Topper Toys. It isn't official, but it's the next best thing. Expect a newer post in the next couple of days.]
I was going through my drafts and found a incomplete draft on the history of JL, AW, M2, GL, and Ertl. I was aiming to add Tomy/Tomica to it, but life happened. Still, I'll show you guys what I had so far (there isn't much difference from the previous entry). So brush up on the knowledge!
The hardest part is finding official sources for the info, IMO. I just went through my links and found a official Tomica source, so I'm currently adding that in my spare time.
Sources: Ertl, Johnny Lightning, Auto World, Greenlight Toys,
1924 - Eiichiro Tomiyama founded Tomiyama.
1945 - Ertl Company is founded.
1958 - Auto World founded as a small mail order hobby business.
1969 - Topper Toys launches Johnny Lightning cars.
1971 - Topper Toys closes.
1989 - Racing Champions founded.
1994 - Playing Mantis was founded by Thomas E. Lowe, who resurrected the Johnny Lighting brand.
1996 - Racing Champions Corporation is formed.
1999 - Racing Champions acquires the Ertl Company.
2002 - Kevin Davey founds Greenlight Toys. The focus is on race cars and pace cars.
2003 - Racing Champions Ertl acquires Learning Curve, changes name to RC2 Corporation.
2004 - RC2 acquires The First Years and Playing Mantis companies.
2005 - Greenlight creates it's first muscle car line.
2005 - Round 2 is founded by Thomas E. Lowe (same guy as Playing Mantis).
2007 - Castline Inc was founded.
<=2010- M2 Machines is founded. (On M2's blog, the earlier entry in Sept. '10, so M2 has been around since then).
??? - Round 2 purchased the rights to the Auto World name and logo.
2011- Tomy acquires RC2.
2013 - Tomy decides to stop production of JL cars.