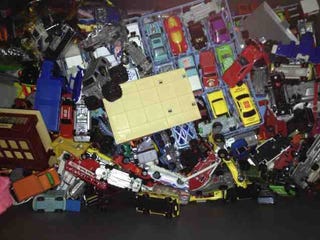 Here it is, the newest version of the diecast brand history. It took me a bit to gather what I have, and it is still incomplete. It's a bit fascinating to see 'when' companies started, or to see how companies progressed/changed over the years. So give it a read!
Anything you guys thought was interesting?
*Added near complete Tomica history, fleshed out Ertls history and Topper Toys. Added some baseline info on Kyosho, AUTOart, Mattel, Tomiya, Tomiyama/Tomy; but they still need to be fleshed out. Still to do: Mattel, Lesney, Hot Wheels, Matchbox, etc.
**As I need sources for the dates, preferable official sources if the brand is newer, links are highly sought after. Give them if you have them!
Sources: Ertl, Johnny Lightning, Auto World,Greenlight Toys, Topper/De Luxe Toys, Tomica,
Weak Sources: Kyosho, Mattel, Tamiya, Tomiyama/Tomy
* * * * * *
1924 - Eiichiro Tomiyama founded Tomiyama. The focus was on toy airplanes.
1945 - Ertl Company is founded by Fred Ertl, Sr.
1945 - Mattel was started by Harold Matson and Elliot Handler, in their garage, making picture frames. The scraps were used to create doll houses.
1946 - Yoshio Tamiya founded the company Tamiya.
1951 - Henry Orenstein founded De Luxe Toy Creations, the primary product was dolls.
195x - De Luxe Toy Creations changed its name to De Luxe Premium.
195x (late '50s) - Mr. Orenstein sold De Luxe Premium to Philadelphia & Reading Company, a railroad company.
195x - Philadelphia & Reading Company discovered they knew nothing about the toy business, so they sold the company back to Mr. Orenstein for far less than he sold it. He also changed the named to Deluxe Topper Toys.
1958 - Auto World founded as a small mail order hobby business.
1963 - The Kyosho Corporation is founded.
1964 - Deluxe Topper Toys is shortened to Topper Toys.
1967 - Ertl is acquired by Victor Comptometer Corporation.
1969 - Topper Toys launches Johnny Lightning cars.
1970 - Kyosho creates its first trademarked R/C car.
1970 - Tomica launches, with Tomica World Products also released.
1971 - Topper Toys files for bankruptcy, and closes. They were selling product they didn't have.
1971 - Ertl acquires Carter Tru-Scale.
1972 - Tomica has 60 models in the lineup. Tomica Dandy is also released.
1972 - Ertl begins manufacturing plastic model kits.
1974 - Tomica has 100 models in the lineup.
1974 - Ertl acquires Structo Stamped Steel.
1976 - Tomica releases the Foreign Vehicle Series and the Long Tomica. The 100 millionth Tomica product is manufactured.
1977 - Tomica adds super cars to their Foreign Vehicle Series lineup.
1977 - Kiddie Inc. acquires Ertl by purchasing Victor Comptometer Corporation.
1981 - Ertl acquires AMT model kit company.
1984 - Tomica introduces new packaging, which is still used today. The 300 millionth Tomica product is manufactured.
1985 - Ertl acquires MPV model kits.
1987 - Handon PLC purchases Kiddie Corporation, Ertl acquires ECSI model kits company.
1988 - Tomica has 120 models in its lineup.
1989 - Racing Champions is founded by Bob Dods, Boyd Meyer, and Peter Chung.
1992 - Kyosho starts to make diecast cars.
1993 -Tomica releases 'B/O Tomica', a battery powered series.
1994 - Playing Mantis was founded by Thomas E. Lowe, who resurrected the Johnny Lighting brand.
1995 - Tomica licensing business launched.
1996 - Racing Champions Corporation is formed.
1997 - Ertl acquires Britain Limited.
1998 - AUTOart is launched.
1999 - A radio-controlled R/C Tomica series was released.
1999 - Racing Champions acquires the Ertl Company.
2000 - 30th Anniversary Pure Gold Tomica is released with a 1 million yen price tag. Monthly Tomica releases with the slogan "The third Saturday of the month is Tomica day". First Tomica Expo held.
2001 - The Tomica Limited series is launched, it first appears at the Tokyo Motor Show.
2002 - Kevin Davey founds Greenlight Toys. The focus is on race cars and pace cars.
2003 - Racing Champions Ertl acquires Learning Curve, changes name to RC2 Corporation.
2004 - RC2 acquires The First Years and Playing Mantis companies.
2005 - Tomica Shop, the first direct retail outlet, is opened in the Tokyo Station complex.
2005 - Greenlight creates it's first muscle car line.
2005 - Round 2 is founded by Thomas E. Lowe (same guy as Playing Mantis).
2006 - Tomica Hyper series is released.
2007 - Castline Inc was founded.
2008 - Tomica Long Type is released.
2008 - AutoWorld signs licensing agreement to produce and market AMT, MPC, and Polar Lights.
<=2010- M2 Machines is founded. (On M2's blog, the earlier entry in Sept. '10, so M2 has been around since then).
2010 - Tomica product lineup is expanded to 140 models with the release of Tomica No. 140. The Tecology series is released.
??? - Round 2 purchased the rights to the Auto World name and logo.
2011- Tomy acquires RC2.
2011 - The Tomica Shop network expands to five locations.
2013 - Tomy decides to stop production of JL cars.