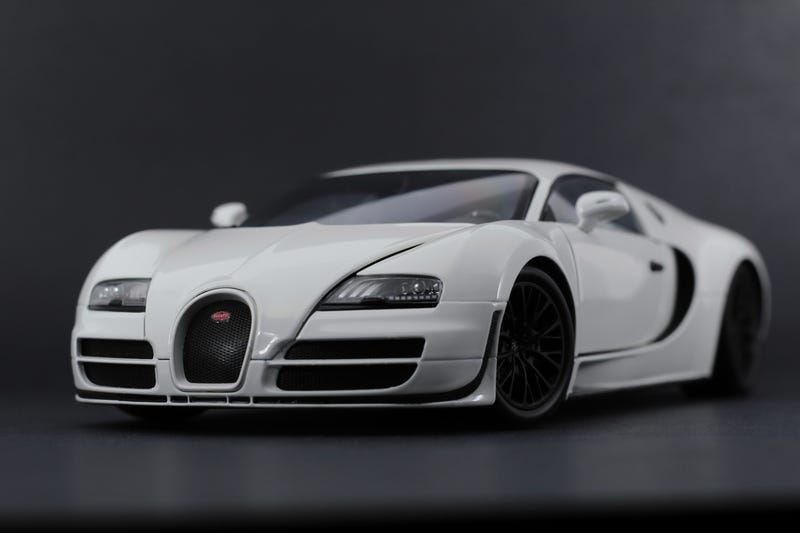 Wayyyyy back at the beginning of Spring, eBay issued and unprecedented 20% off site-wide coupon that you could use on any thing you please. Not some garbage you'd never want from a short list of specific sellers, SITE WIDE! I decided to take full advantage and splurge on a pricey piece. Enter the Minichamps Bugatti Veyron Super Sport.
I know the Veyron is a pretty polarizing super car. Most people find it heavy, unattractive, and the go-to for the ultra wealthy who need to convince everyone at the country club that they're a "car guy". Many are able to appreciate the engineering marvel that the car actually is, but grew tired of the endless "special/final" editions, and 1000hp this and a million dollars that.
Bugatti debuted the original Veyron when I was just a kid in 8th grade. I fell inlove with the original show car that was on display at the Frankfurt auto show; black over blue. I always thought that would be the color scheme I would have in my 1:18 collection someday. However with AutoArt being the only option, I flat out refuse to spend somewhere around $300 when there are other good alternatives available.
This white on black Super Sport example from Minichamps looks amazing in my opinion. I was never a fan of the chrome over maroon, or tan over silver, or silver over slightly more silver paint jobs on the big Bug. Simpler is better in my eye on this exterior.
The Super Sport has some body upgrades from the original showcar that I fell in love with, but beggars can't be choosers. Coupled with the 20% off ebay couple, this one ended up costing me somewhere around a buck 30. It may not be as fancy pants as the AutoArt, but it gets a pretty impressive Bugatti on my shelf with enough change to spare for a whole 'nother super car model.