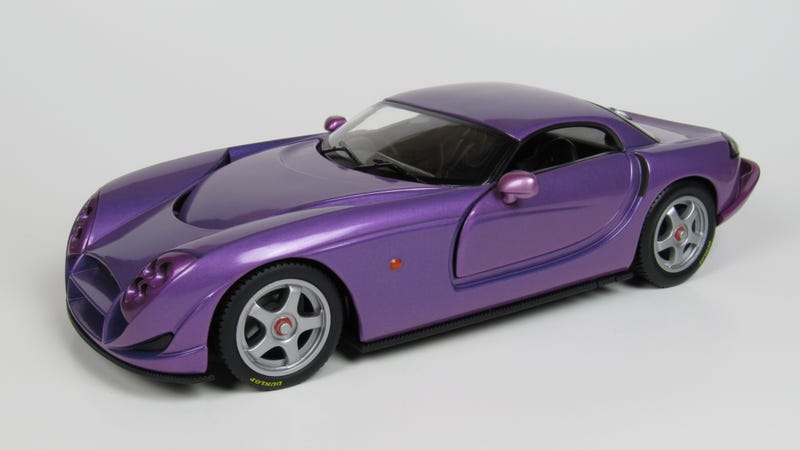 What's this? Another basic 1/18 Hot Wheels after I posted the 288 GTO on Sunday? Yep. As many of you noted, purple's a bit of a tough color. I have a few other purple cars and maybe even some that are nicer, but this 1/18 TVR is so interesting to me that I decided to go with it.
This car was truly insane. Most of the cars TVRs built were insane, of course, but this one made all the others look like Honda Civics.
How insane? First off, just look at it. The styling is wild. It featured a 7.7L naturally aspirated V12 that broke dynos when TVR attempted to measure its output (they were able to measure each bank indivually, however- 480hp each). But that is not where the insanity ends. The owner of TVR drove a prototype of this car home one day when development was nearing completion. He ended up cancelling orders and refunding deposits for the car based on that drive, concluding that the car was too dangerous to sell. There were racing versions that saw some success in competition, however the motor was restricted down to 675hp in those cars.
While horsepower figures and crazy stories can be tough to capture in a model, Hot Wheels did a fine job capturing the bizarre styling of this vehicle. Most of it somewhat resembles and automobile, but the rear of the car is truly weird.

Hot Wheels also gave the model a very strange door opening mechanism. It's not something that can really be shown in pictures, so I took a video:

Weird, huh? No idea if that's based on the real car. The interior is pretty well done as well, with a couple of nice pink and purple touches.