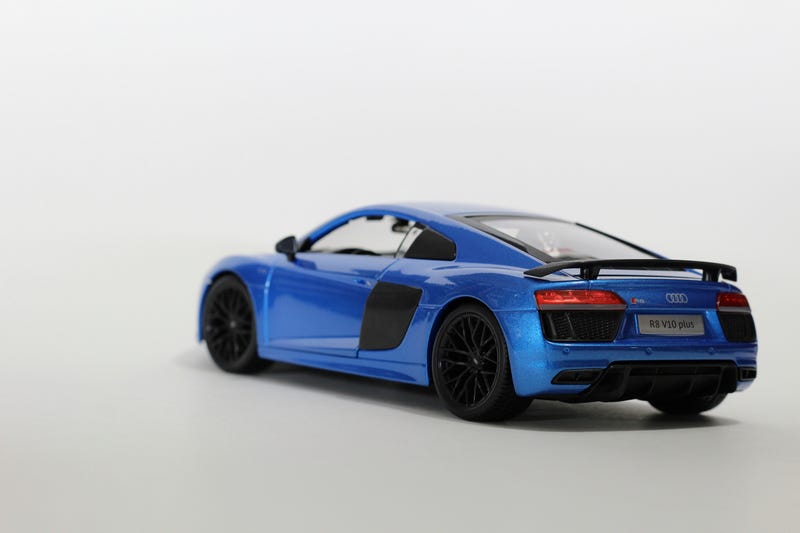 Well, well, well... look who's bringing a knife to the gun fight. It's LaLD Car Week, an event to show off your AutoArts and Exotos, and I've brought my $15 Maisto I bought at Costco. Let's do this...
It's true, this is my actual entry for Blue car day. This is the Audi R8 V10 Plus from Maisto in 1:18 scale. Personally, I never cared much for the R8. I hated the original for starting the cheap LED running lights crazy that trickled its way down to Kia's and eBay tuner Civics. Sure it had a gated manual and a V10, but it was basically the Gallardo's German cousin.
The car has grown on me though since over its long life, and something about this model here caught my eye so hard that I couldn't leave it behind on the pallet at Costco. I had a set list for last Fall's Costco season and this car was never on it. I'd glad I got it, because a few months ago I was waiting behind this exact 1:1 in the Starbucks drive-thru and I've been completely smitten ever since. I immediately jumped on to my work laptop afterwards and started logging some overtime so I could get an R8 savings account going. The low look, the snarling V10, and those (updated) LED's.
Back to the model, Maisto did an incredible job with the headlights! The chrome pieces for the DRL's can catch the light in just the right way to make them look illuminated. The four Audi rings on the front are crisp and straight, and even the tasteful front license plate breaks up the whole lotta grille the R8 has going on.
Around back we've got a well executed carbon fibre wing and side blades, which set off the blue paint along with the gloss black wheels. There are no cheap decals here. Maisto made the carbon bits textured to look at feel like the real deal. The tailights are also crisp and clear and have the same affect as the ones up front. When the light catches the inner chrome pieces just right they look like they've got power to them. No mounting posts to be seen, by the way. There's even detail in the rear bumper for backup sensors.
The car's blue paint job is just about flawless and in my opinion is the perfect color for the R8. Its super glossy and has just a little bit of metal flake in it to make it sparkle. It looks both matte and chromatic at the same time, its beautiful.
The rear glass hatch lifts up for engine bay display. The V10 is well represented and you'll even find cross-braces back there.
So there it is, my Audi R8 Maisto. I highly recommend picking one up if they're in this Fall's Costco batch and I'm sure they'll introduce a new color. I'm not sure why you'd pass up this blue though.
And don't forget, Camshaft Chris brought out his red R8 on Sunday!