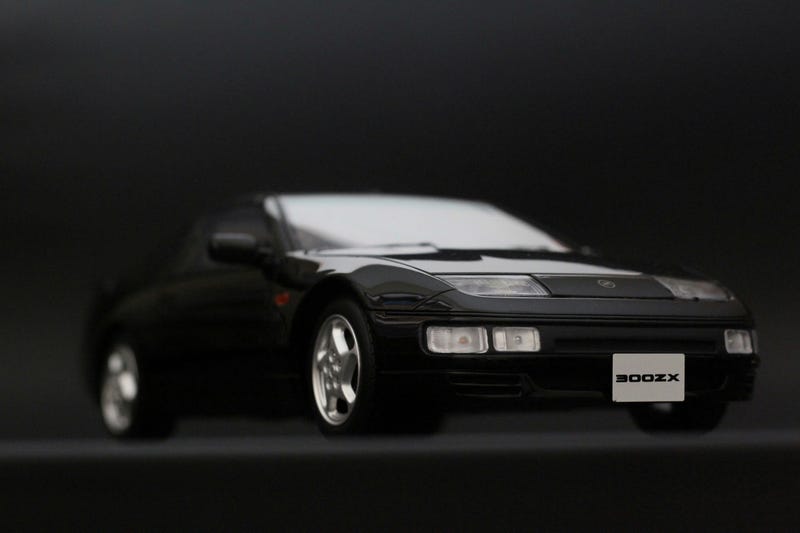 My 90's JDM collection is growing, mainly kicked off with this piece here: The resin Nissan 300zx from Ottomobile.
Released in January, I pre-ordered it from a diecast website from China and it took a very long to time to receive. I had all but given up on trying to track down the older Kyosho diecast version of this car. Androoo somehow scooped up two of them but I'm constantly getting outbid or just sitting in the bleachers as the auctions got carried away.
The Otto is perfect for me though. Its way cheaper (and easier to find) that the Kyosho, plus I love black on this car. The rubber "mustache" on the front bumper always looked weird to me, but it blends right in with this model's black paint. Apparently Otto released a red version of the car for the Asian market only, which I could have purchased through the same site I got this one, but I chose the black car instead for this very reason.
The lack of opening features (being resin and all) doesn't both me too much because I'm not that much of a JDM fan anyway. As you all know, my collection is mostly geared towards supercars and concepts. That gives the resin model another check mark in the "pro" column.
Got to love wheels from the 90's, you can't tell if their awesome or awful!
The front 3/4 is definitely this model's best angle. The headlights that Lamborghini borrowed are awesomely detailed. You can even see the veins in the plastic. I also love the clear turn signals with the amber bulb inside.
The interior of the car is about as plain as any other car out of the same decade, but Otto did a decent job with the details. I especially love the pale green screen added to the radio display. This model is also a RHD JDM Z, as you can see.
Some more exterior details I can highlight here are the defroster grid on the back window and the keyhole on the locking gas cap, which is really a nice touch.
There you have it, my black car entry for LaLD Car Week. Please enjoy another million pictures....