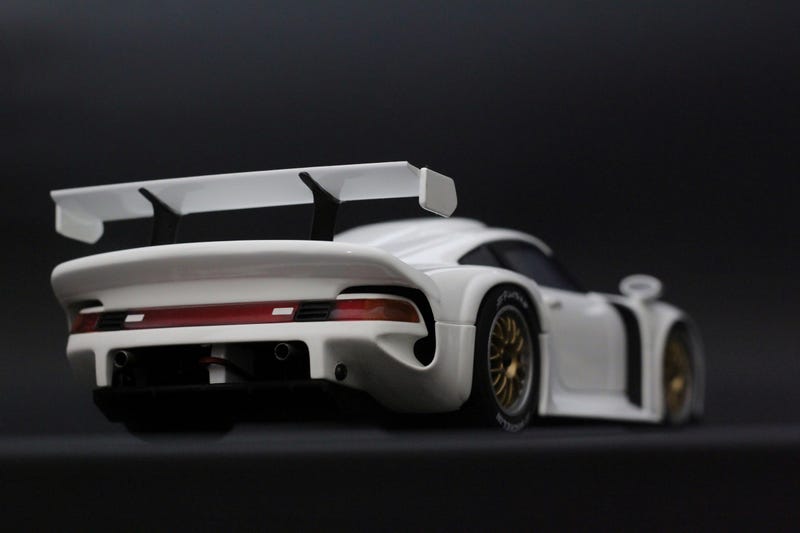 An oldie but goodie... I've show you all this UT Porsche 993 GT1 Strassenversion before, but only through an iPhone camera. The pictures were also of a white car on a white background and were just overall poor quality. I think I might have did the car justice this time around.
This is the 993 generation of the homogolation special 911 GT1. Porsche built a handful of the required 25 units with 993 headlights, but the rest all had 996 fried eggs up front. UT models also did the 996 generation, and if you have the means, I highly recommend picking one up.
These old UT models are some of my favorite in my collection, but this Porsche has to be the best one. Its not as frail as some of their McLarens, and its a bit more detailed than the BMWs and Ferrari's I have.
The exterior lines are just so crisp and clean. The doors shut like a vault. The tires are some of the best on any car in my collection. It doesn't get any better than gold wheels, silver trim rings, and white tire lettering on racing slicks. Oh, and when you remove the two little screws on the rear diffuser...
The entire rear panel of the car comes off to view that glorious, glorious mid-mounted flat 6. I'll give you a minute to process...
You'll find other sweet exterior details like this tow hook up front. There aren't any mounting posts on any of the lights, which look more like real glass than plastic.
The interior is fully detailed with a roll cage and all the buttons and switches you would ever want. Someday I'll figure out how to get a good interior shot with my DSLR!
I'll admit, the car does have a few flaws. First, those two screws that hold on the back are a bit of an eyesore and definitely wouldn't be there on the real car if accuracy is your thing. I'm not sure where else you could have put them though, but that's not my job. My job is to look at it.

My next complaint is those air-tight doors. Even though its great that they shut so tightly, they're a struggle to get open. I've found using a fingernail underneath the molded door handles works best.
Also, a stiff breeze will blow off the large rear wing. I've taken a look at it but it doesn't appear to be broken anywhere... The same thing happens with my McLaren F1 GTR road car from them.
Other than that, here is your winner my entry for white day. If you are patient, you can score one of these on eBay for less than $100. Anson also made a model of the Strassenversion which usually runs a little cheaper, although I am not sure how it compares to the UT. If you've got deep pockets, I know AutoArt released their version with 996 headlights, too. Of course, there are countless models of the race version with all sorts of liveries.
Viva La LaLD!