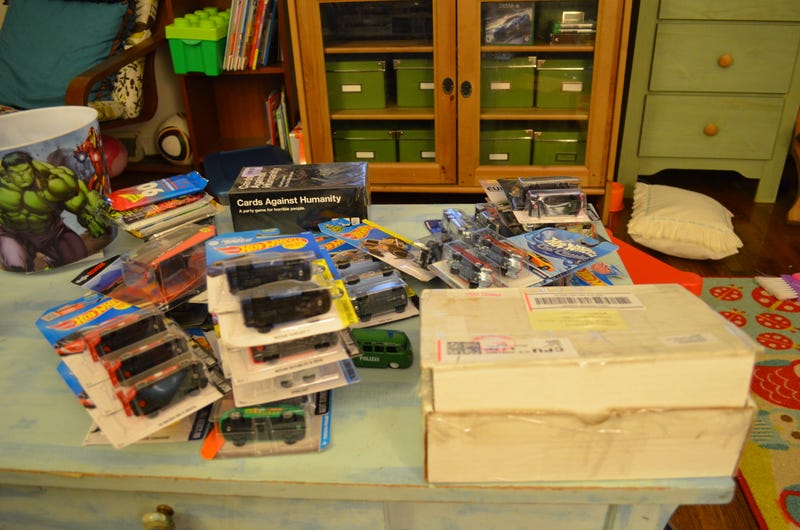 I finally got a few minutes tonight to pull out all my HAWLs and HWEPs from the last month or so. Many thanks to MustangFan and The Bell King for the HWEPS! We'll start with those first.
From MustangFan, a nice box full of Matchboxs, and Hot Wheels R32 Skyline!!!! Yessss, Skyline!!!! I wasn't ever able to find any of the in-box Matchbox releases, so MustangFan hooked me up with a few extras he had, plus an awesome Land Rover and sweet RAOK carded Jag F-Type! That carded F-Type will be perfect for a custom I had in mind. Thanks!
Next up is the HWEP from The Bell King. More Skyline!!! This time is the ZAMAC Hakosuka! Plus a RAOK 180SX! Thank you! This will also go into the pile for customs. I'm thinking amateur drift car...
Now, lets get to the vacation HAWLs.
First HAWL came from the grocery store on the first night. Stopped in to the local Ingles to pick up some basic groceries for breakfast the next morning and such. Came across the Focus RS and MBX Prius first. Grabbed both of those for customs. Don't have a plan for the Focus yet. The Prius though is gonna be my second attempt at a LaLD GT3 custom, as I destroyed the base of my first Prius. Hopefully I can be more careful this time around, hahaha. The other two were just because I never picked up the Darth Vader cast when it originally came out, and I don't have any cast ot the GMC Motorhome yet. Plus, Doctor Strange is just cool (who's excited for the move?!?!?).
Next HAWL was a single car deal. This was in a little gift shop in the tiny town we were staying in. It's a 1/43 made by Bburago. Aside from having stamped wheels instead of fully detailed ones, this cast is very good. Especially compared to the other cars in the same batch, like the LaFerrari, 458, and California. This one had the most detail and looked the closest to the actual production car. Oh, and at the same store, my daughter picked up a Hot Pink 1/36 Kinsmart Lamborghini Aventador with which she is very happy with. No pictures of that though as she stashed it somewhere in her room...
A few days later, we visited this cool toy shop called O.P. Taylor's. They had a crazy diescast section wither older and new Hot Wheels, some Matchbox, and new Maisto stuff! Out the older Hot Wheels, they only had two Cool Classics, and they were both Ampicars! I didn't even know they made a Hot Wheels Amphicar cast. So cool! And since they had two, of course I grabbed the second one. If anyone wants it, let me know! Other finds there included a ZAMAC Team HotWheels Corkscrew Buggy to go along with my TH version, and two of the new Maisto's. I've featured pics of the Polizei VW Samba in a previous post, but have yet to show off the LaFerrari. This one seems to be the most detailed of any small cast I've see of it yet, espceially the Bburago I mentioned earlier. I'm trying to get this one ready for Spaghetti Sunday. We'll see if I have enough time to get that done.
Back at home, I made a Walmart trip on a lunch break and got lucky finding an R34 Skyline! So excited for that one. I also picked up the new Minecraft Minecart, the Batman vs Superman Mad Manga, and Euro Style Polizei E30 M3 to put on my desk.
A trip to Target one night landed this cool HAWL of the new Minecraft Minecarts with the game-art cards. I know it's the same cast in all of them. I just wanted all of the variations of the card art. Still missing one I think though. Also picked up Cards Against Humanity. I've heard rave reviews about the game, but never got around to ordering it for myself when it was only available online. Apparently Target has started carrying it though. I managed to snag the last one they had, along with one of each of the expansion packs they had! Can't wait to have a few friends over and see how crazy this gets!
A quick stop in to a Dollar General to grab a caffeine boost (Surge is back!) snagged me two Fairlady Zs. One for custom and one with tampo errors! Pretty cool as I almost never find error casts.
And finally, the big HAWL. Target trip on my lunch break earlier this week. Freshly stocked pegs. Need I say more? There wasn't a Super to be had, but I found everything else I was after! I picked up two of the Yellow Submarines, one to crack open and one to send to my brother-in-law who's a huge Beatles fan; another Skyline, because you can't have two many Skylines; the T-Rextroyer Treasure Hunt, the pink Drifsta (not the $TH version), and finally MIATAS!!!!! Woot!!! One of these will be up for trade, one with good tampos will be kept as-is, and the one on the bottom with the bad tampos will become a custom.
-EDIT: OH! I forgot to mention, I found a variation with the E30 M3 from the Euro Style series. There's a full rollcage variant out there, just like with the Hakosuka Skyline form the Japan Historics. The first few that I found were only half-cages. Pretty cool! Be sure to check them over to see if you have the variat!
So, there you have it. All of my HAWLs and HWEPs from the past month. If you've made it this far, thank you! I apologize for the blurry / poorly lit pictures. I had to make the best of the free time I had, lol. Hopefully I don't get this far behind again. I'll try to keep up with more regular posts. Anyways, it's 1:15 in the morning now. I'm going to bed. Goodnight all! Enjoy the hunt!