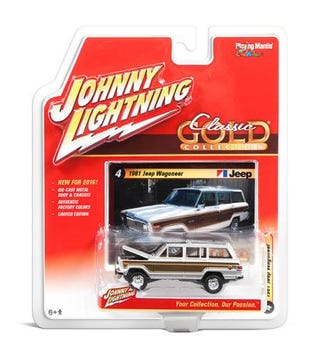 T-Hunted just posted a list of all the new Johnny Lightning models coming soon! They're recolors, but there are some good casts in there, so we won't be completely deprived of good material. They'll all be released in four different batches: Classic Gold, Muscle Cars, Street Freaks, and Monster Trucks. They are as follows:
Classic Gold 2016 Release 1:

1. 1965 Buick Riviera
2. 1972 Ford Maverick
3. 1975 VW Super Beetle Convertible
4. 1981 Jeep Wagoneer Limited
5. 1967 Ford Fairlane 500 XL
6. Catherine 1965 Pontiac 2 + 2
In my opinion, yhis looks like a great batch! The Jeep Wagoneer, now with classic wood paneling, the VW Convertible, which was only made in a few releases and now commands top dollar on eBay, and the Ford Maverick, hopefully in base economy car trim. We'll have to see how the Fairlane XL compares to the GL Fairlane sedan.
Muscle Cars USA 2016 Release 1:

1. 1970 AMC Rebel Machine
2. 1971 Buick GSX
3. 1971 Pontiac GTO
4. 1967 Chevy Chevelle Malibu
5. 1969 Dodge Coronet R / T
6. 1970 Mustang Mach 1
This set doesn't do much for me. Standard muscle car set, with very little variation on the theme. The one outlier is the AMC Rebel Machine, which will be awesome. I'm pretty sure GL has done most of these, so get your review/comparison posts ready!
Street Freaks 2016 Release 1:

1. 1963 Chevy Nova
2. 1970 Plymouth GTX
3. 1976 Chevy Camaro
4. 1972 Buick Riviera
5. 1958 Plymouth Belvedere
6. 1963 Ford Galaxie 500
"Street Freaks" is the JL equivalent of HW exaggerated fantasy cars. I doubt there will be much in here for us, but some people are into these. To each their own. The Street Freaks Nova has been released, and gives a good general idea of the line:
Monster Trucks 2016 Release 1:

1. USA-1
2. Bigfoot
Same thing as with Street Freaks, not much here for us. Most likely will be bought by children, or at least that's the intended audience.
What do you think about JL's comeback? What series of models should JL do next? I for one say realistic French, JDM, or British cars, but that's just me. What about you?