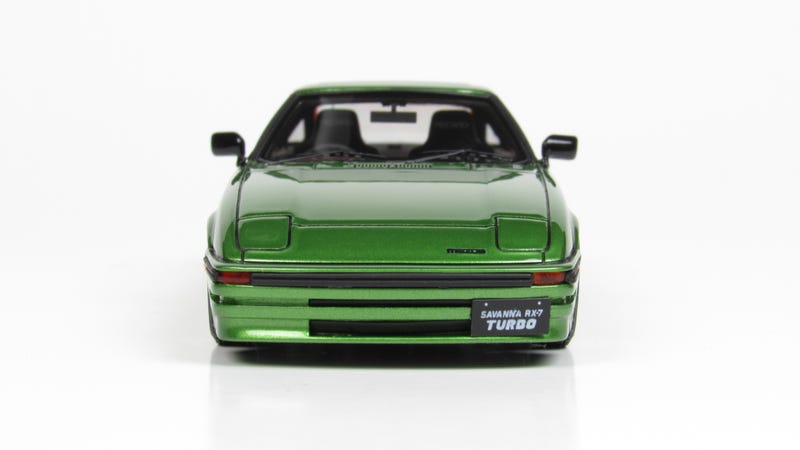 This is Ignition Model's SA Mazda RX-7. It's a sealed resin model in 1/43 scale and it is absolutely gorgeous.
I picked this model up in Japan and it is just so good that I decided to bring back our old friend Concours d'Modella to feature it. For those that may not know, CdM is a way we once did reviews around here where we scored models in various categories. So let's get to it!
Design and Accuracy- 10/10
I once said that I'm hesistent to hand out 10s when scoring for CdM because in my mind that means there is nothing to improve on. Well, I can say with some confidence that I don't think there is anything for Ignition Model to improve on with this model's design. It is flawless in its details both inside and out. While the car is modified, the modifications are completely believable and look just like a real modified RX-7 could. And while the appeal of those modifications is subjective, I don't think I'm alone in finding them quite tasteful.
Fit and Finish- 10/10

Not too much to say here. All of the parts fit well and the paint is flawless. Again, no room for improvement.
Features- 8/10
Well, it loses points for having no opening feautures and not rolling. Opening features are not common in 1/43 anyway, so that's not a huge deal. But everything else is there, including lots of small separate parts attached to the body and a very impressive muffler that I believe is actually metal.
Value- 6/10

Alright, here's the deal: 1/43 scale Ignition Models typically go for about $150. That's what I paid for this one and for 1/43 that is very high. But I think a few things justify it. First and foremost, see the previous sections' scores. Additionally, these do come with a nicer case than most 1/43s and a leather wrapped plinth with a nicely made plaque. That doesn't show on the model itself but does add some value. Finally, the variations on the models justifies some expense as it's cheaper to just make all of them exactly the same. Of the models on the shelf where I bought this, there were 5 or 6 different colors and 2 wheel styles on the 6 SA RX-7s. The same was true of the other road cars they had in stock. That's a neat option to have. They're not the first company to offer multiple colors in 1/43, but I don't know of any others that have quite so many colors available (outside of different liveries on racecars).
Rarity- 8/10

I only found Ignition Models at two places in Japan and while you can find them on Amazon and eBay easily enough, there aren't a lot of first generation RX-7s. Additionally, Ignition does each car in multiple colors and even gives them various wheels, so this specific variation isn't exactly something you can just pick up online anywhere that I know of. Maybe you can though, let me know if you know a site that has a lot of them!
Total- 42/50
A high score for an exceptional model. This one is already a highlight of my collection and I hope to add more Ignition Models in the future. This is the highest score I've given out in a CdM, which you can see in the link to the ladder below!