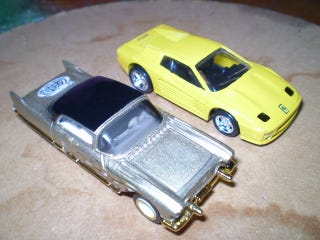 Decided to dig out some of my older Hunts just some quick shots for your approval.
Ferrari F512M Treasure hunt 5/12 1999 and 1957 Cadillac Eldorado Brougham Treasure hunt 9/12 2003.
Cadillac got a a swap meet in Sydney a number of years ago for about 10 bucks on card I DLM'd it when I got back to NZ very quickly lol.
The ferrari was a swap in 2001 or 2002 I can't remember when for a 2001 Rodger Dodger treasure hunt which I managed to find 2 of on the pegs, the swap was done with a mate who collected only hot rods customs and muscle cars he had it since new, deal was made even swap, I gained one of the first hunts that hadn't even been in the mainline until then, of course I DLM'd as soon as I got it home.
I sign of with a overhead shot of these beauties DLM'd and free to show all their beauty Yours in DLM'd Treasure hunt small diecast Dave H NZ.