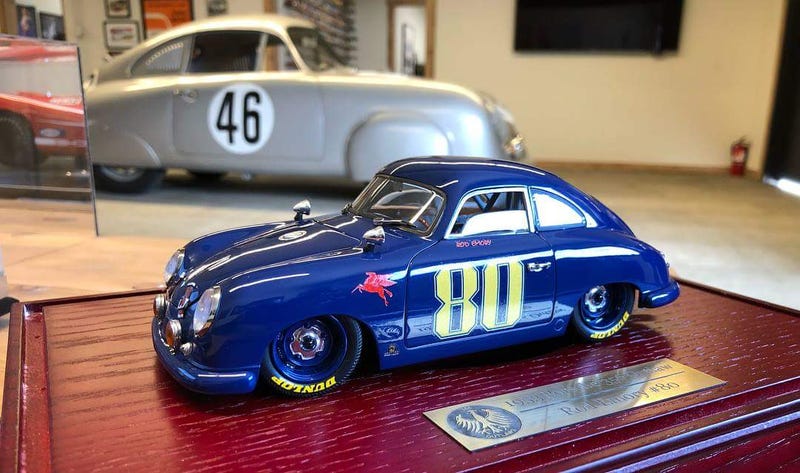 The Visit:
Well by now you might have heard that I made a little trip down to North Hollywood to deliver my creation to Rod Emory this week. I have to say right off that this was an amazing experience from beginning to end, yet I don't think it's quite over just yet...
It started with a phone call to Rod a few weeks ago to let him know it was done. He's an easy guy to get a hold of and he posts his personal cell everywhere; he does pick up. The one thing you won't find is the address to his shop, top secret stuff and I quickly found out why. He's an easy guy to talk to and our short conversation was filled with mutual anticipation, I'd been sneaking him a few progress pictures along the way.
Unfortunately, our original visit was postponed due to the devastating So Cal fires but things cleared up enough recently to make the trip. I'm lucky enough to be only 4 hours or so from his shop and traffic up and down the interstate was relatively easy going. I arrived late morning at the front of a nondescript industrial complex and parked in a fairly vacant lot. The only hint of what was inside were two primered 356 coupe bodies and Rod's daily 911 turbo. Rod was finishing up a prior appointment so he invited me to hang out in the waiting/showroom. That's where the eye candy started.
The center piece is the 356SL, the real deal, arguably one of thee if not the most significant Porsche in existence. Rod and his team (which includes his family) meticulously restored this car for Pebble Beach but that is a well documented story found elsewhere. The waiting area is littered with Porsche memorabilia, books, manuals, art, photography, models. The sitting table is a drafting cabinet reimagined to hold all of Rod's 1/64 collection. On top sits a 1/8th highly detailed model of the Attwood/Hermann 917 given to Rod as a gift from Porsche. From this main room you can look over and see Rod's large scale collection on the wall in the hall connecting into the main shop.
Rod later told me that this was the culmination of his and his son Zayne picking up cars at race events and where ever really. I would learn from Rod that he surrounds himself with and involves his family in much of his daily life.
Rod finished up with his appointment and met me in the waiting room. I've probably said it a dozen times but Rod Emory is one of the most genuine guys I've met. One thing we both have in common that I learned early on is we both share the same faith and core to that is our family and values. When you meet Rod it's like you've been his friend your whole life. No exaggeration.
The guy is dedicated, he works from 4 to 4 each weekday right along side his employees and it's been like that for years. The main reason the shop is unlisted is because Rod doesn't have a secretary, his phone is literally always ringing, buzzing, dinging, 24/7. He also fields all of his social media following as well, with quick response time no less. But it's all important to him to interact with admirer or client alike. I can see it eats up the vast majority of his daylight hours which is why he is by appointment and why he works long hours. But he took a solid four hours out of his day to share with me who he is and what he does and that was more then I could ask for.
We didn't get straight to the model, introduction formalities and a brief tour of the shop was first. What a cool place! If you photographed it in black and white it would be like stepping back into a 50s era race prep workshop. The air is filled with the smell of warm metal and the sounds of hammers and welding torches. It's all done in the old ways with the help of modern magic.
Like Rod, his employees are genuine. Everyone there wants to be there and though they are hard at work you can tell it's not really work to them but a passion. Even with a stranger poking around they are willing to stop, take out their ear plugs, shake your hand and answer questions. Master craftsmen at work, it's just plain inspiring!
The main shop is quite large and houses around 8 builds at any one time in varying states of completion. From the walls are hanging large prints of past automotive history as well as former body work of past Porsche legends. Almost 1/4 of the shop is dedicated to storage of cars waiting to be transformed in addition to the on going builds. Rod knows the stories behind all of the cars in his facility, his memory is impressive. Sprinkled in the mix are a few of Rod's personal cars as well as client cars in for various repairs. There is so much to take in!
After the tour Rod needed to catch up on business so I walked around and chatted with employees and admired close up some of the insane fab work such as the Momo RSR build, truly impressive stuff! As I found myself back in showroom the entire scope of the Emory operation was coming into focus. It was finally time to unveil my model to Rod.
As I unwrapped the car and display from it's box I saw Rod go from excited to stunned. It was truly humbling to see his reaction, coming from a guy who literally builds cars for a living. I went in for a hand shake and he pulled me in for a hug. This car really meant a great to him and I knew in that moment that I had made the right choice in choosing this car to replicate as a way of giving it back to him in a sense. We talked a bit about the details of the model and he related many personal stories about the cars legacy and role in his life.
Guest appearance by Philips custom 356 Hot Wheel:
The remaining part of my time with Rod was most certainly a highlight of the trip. Part of my offer to build him this model was a drive in one of his cars and boy did he deliver. Though his GT3RS was on the plate I wanted to experience something older, something I could relate to, so I was pleased that we would end up taking out Rod's 356 '55 Coupe. As soon as he fired up the carbureted flat four it instantly took me back to my 20s where it all started for me with my early aircooled beetles. Even though Rod insisted this wasn't one of his bells and whistles builds it ticked all the right boxes for me.
Unfortunately, due to the carnage of the fires in the area many of the popular driving roads were closed preventing us from a longer drive up the canyons but we still found some room to open up the warmed over Outlaw, mechanically still very much 356 DNA. After a gas station stop and a few miles out Rod pulled off and we swapped seats. Though Rod was pretty humble about this particular car it put me right back into the seat of my 1956 Cal look beetle nearly 10 years ago, hard to believe I was driving a six figure car! The sound of the Weber induction and the grunt of torque from down low was all very intoxicating.
As we pulled back into the shop I knew our time was coming to a close. We spent a good while talking about life and I gleaned what advice I could from such a great example of not only a shop owner, but husband and father who values his family above all else. An experience I'll carry with me always. Thanks Rod, it was a pleasure!
Thank you LaLD community! Never would I in a million years have guessed that I'd be were I am today sharing this experience with you. Keep imagining, keep creating, inspiration is all around you!