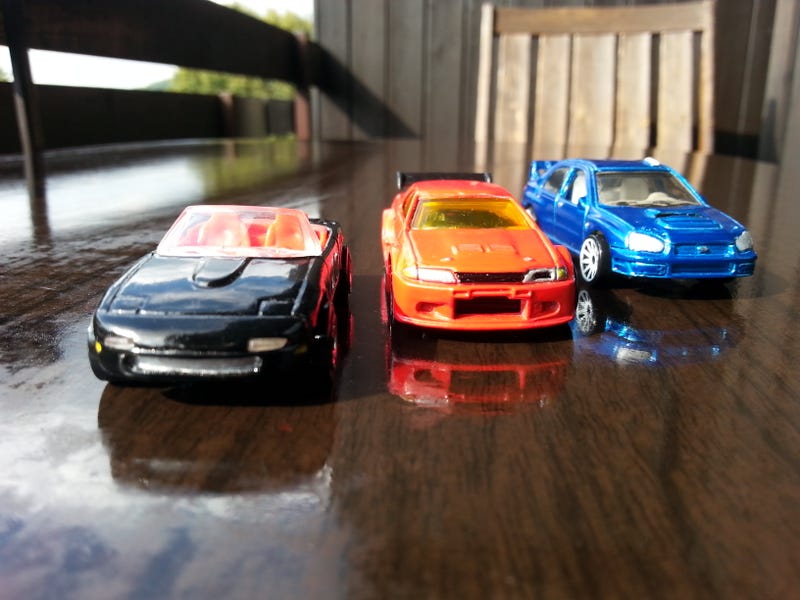 Last week I did three cars from my "JDM cars I'd like to DD collection", and I won't hide them from you. Well, to be honest, my friends and family think that this is a bit weird, not "Let's have an intervention!" weird, just a bit off. So you guys are the only ones who pretend to be interested in this kind of stuff.
Anyway, when I say "cars I'd like to DD" this excludes the Miata. I am too tall to safely drive one, but if anyone wants to deliver a 1:1 model of one of the other two to my doorstep, be my guest.
If you are into Euro and JDM cars you have to have THE ANSWER, right? Unfortunately it was part of some WWF series, and had the decals of a Mr. Electro all over it. Blergh! I don't know who Mr. Electro is, or how he wants to be taken seriously in the world of wrestling if his name can be found on a hairdresser's car, but those had to go.
The Subie, was a slightly different case. The tampos weren't too bad, I just wanted a street car, not a rally car.
The R32, wasn't too bad either. But hey, it's a Japanese car, we know that! And that random Manga character on the roof? If you were mean, you could call that racial stereotyping or whatever. Why not a sushi roll, or some schoolgirl's knickers, or something?
So I masked them up, brought out the good ole acetone, got a bit woozy on the fumes and ended up with three decent looking vehicles. Add a few details and they aren't that bad at all.
Gave the Miata it's smile back, plus the sidemarkers.
Rear lights and silver exhaust. I quite like the black over red. All the N/As you see are red, or red, or red, or mayyyyybeeeeee BRG, and ,if you are lucky, blue. If you look closely, you will see what's off with this casting though.
Same, same on the Subie. Two tone tail lights really transform the back. Top tip: have that cup of coffe and cigarette AFTER you've done the tiny details. Gives a much more steady hand. I did it the other way round. I also suck at door handles.
As avid readers might know, I didn't know what to do with the air intake through the headlight. Went with this. Yellow indicators and black grille were a must have.
Clean and mean! Just how I like it.
Tried several tail light variations, finally settled for this as it was the only one that didn't suck. Black plate light housings for a little a extra something.
Dem asses want to say goodbye.
This was all done with careful masking, no rivets were harmed in the making if this! Given what I learned today, would I do it again? Heck nooooooooooo!
If you liked this, join us next time in an episode called "And why exactly did you think giving him power tools was a good idea?"