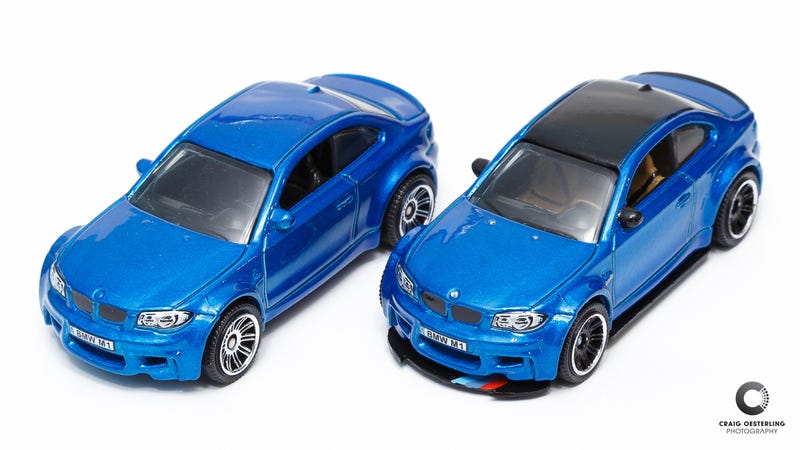 Make sure you ENLARGE these pictures to see the details.
I loved what Philipilihp did with his 1M so much that I had to follow suit. I've got three of the cars so my plan is to keep one bone-stock as it's just about the best casting and detailed car I've seen from MB or HW. I'm slowly working on plans for the third one.
This, then, is the second car. I'm in love with this blue so I really didn't want to change it. And the headlight and taillight details are so good that I didn't feel like trying to repaint them. So I added a front splitter and some side skirts, detailed the interior, painted the roof and lip spoiler, painted the wheels, and added logos to the wheels, hood, and steering wheel (here's where the Philipilihp inspiration comes in; I never would have thought to paint logos on the axle heads!).

This is only the second car I've actually added parts to. The first attempt was a splitter for the new Viper GTS-R to fill in that awful gap under it's chin. I'm pretty happy with how they fit and look, overall.
The paint on the roof is a little thin on the edges, but I'm going to leave it as-is. I really watered-down my black hoping that as it dried it would lay down really smooth and even. It worked pretty well. I've had trouble in the past with my black being kind of lumpy and uneven.
I think I'll have to wait at least a few weeks before I can spray the body with a clear coat as I do it outside and it's a bit too cold right now. I'm also thinking about lowering the ride height a tiny bit; another mod I've never tried before! There just seems to be a little too much of a gap above the wheels.

I hope you like it!