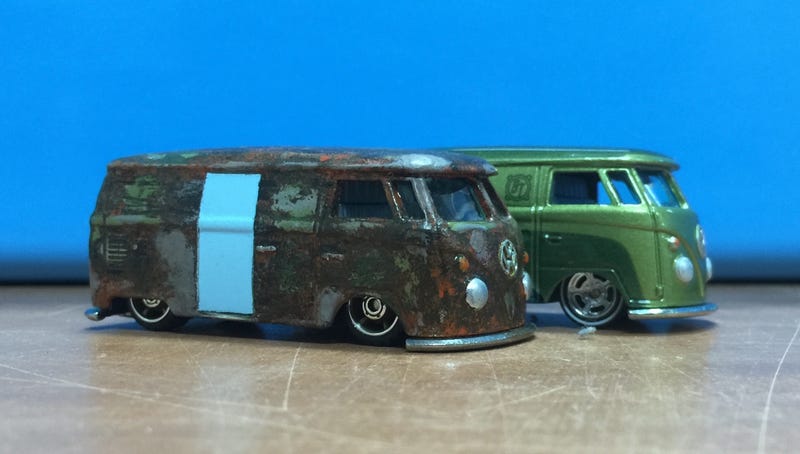 Still trying my hand at Patina. I'm happy with this one but not 100% so I'll keep at it. This is not a 'How to' but does show the various stages of the process. I will do the promised How to soon.
Started with a swap and drop, it still has ground clearance but only just. A credit card is too high for it though! For the wheels I used some Matchbox Real Riders from the recent Best of the World London bus, I think they work well on this cast. Only the front was lowered on this one.
I could have left it like this but I didn't.
Ok time for paint!
A few steps aren't shown but I just sprayed the cast with matte black and some orange pressure pack quick dry enamel. Then wiped most of it off lightly with a rag soaked in Acetone. After that mixed the two colours in various ratios on a bit of scrap board and haphazardly applied to the Van with a crappy old brush. A bit of grey primer was also brushed on at random places. After getting to the stage pictured above I wasn't entirely happy, it was still a bit chunky looking and needed something else...
A replacement door was added to break up the monotony but the patina still wasn't how I wanted.
Another attack with the acetone rag in strategic locations and it gets a pass.
Now a side by side with its stock brother.
As stated earlier I'll do a proper How to as requested a while back but this post may help give you an idea of the process.
Thanks for looking.