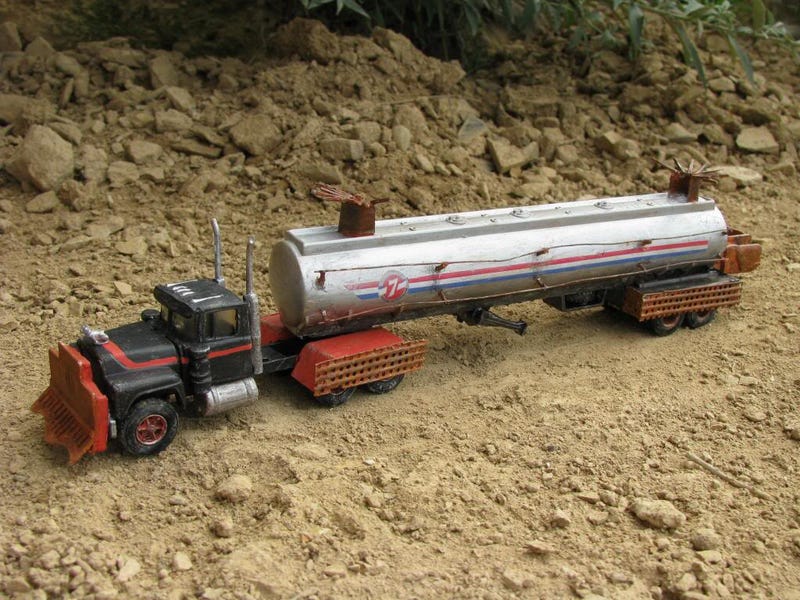 Its been a little over a year now since I got back into collecting as well as customizing. It started back on the old HWEP and continued on to LALD. I did one these posts around the 6 month mark but with all the new members here I thought I would another post of all the customs I have done over the past year just let some of the new guys see something they might now have seen before and maybe give a little inspiration to those thinking about doing a custom for the first time. Besides who doesn't want to see some pics of the Mad Mad semi again. I normally have several pics of my customs but for space purposes I'm only going to try and post the best pic of each custom. If anyone see something they want more pictures of just let me know and ill post them in the comments. So without further or due lets start from the very beginning. (Customs posted in order they were created)
These next two were customs I made for neice and nephew. The were both personalized with their names. My neice loved hers so much that she wont let her brother play with it at all. She says its her car because it has her name on it.
This is a custom of one of my daily drivers a 1999 Pontiac Trans Am WS-6
This next one gets 2 pics because, well lets face who doesn't love Smokey an the Bandit
HWEP Custom, this was made a few days before we switched over to LALD in honor of the old board.
Inspired by the Dakar races, and still one of my favorite customs.
And this custom is the very beginning of my long obsession of making movie and television cars. This one started everything.
Mad Max Interceptor
Mad Max The Road Warrior Interceptor
Christine Custom, I still love this custom over my Greenlight Christine car.
This custom was a weird one, I had an 8 Crate car laying around some spare parts and figured what not make some kind of drag car out of it. This is the result.
I have phillip to thank for this one, he posted another custom of convertible Porsche and I had to have one. I know the idea of the racing convertible is completely ridiculous but I still love how it turned out.
Blue Thunder Helicopter
Back the Future Biffs Auto Detailing Truck
My first polish job
This next custom took almost 60 hours of work and cost em around $50 all together in materials just to make it, not counting the $30 I paid for the base vehicle. If my house was on fire and there was one car I could save this would be it, hands down. I know alot of us older guys have seen this but I figured I would post a few pics of this one because 1 picture just doesnt do this one justice. And I know the pictures don't show it well but this custom is long, almost 12 inches front to back.
The next couple for some Lesney cars that were customized, they had seen better days and these were more of a restoration.
Ferrari Berlinetta
Steve McQueens Ferrari Berlinetta, he had the care specially painted with a brown/gold color. I even found a picture with his old license plate to put on it.
Land Rover
Lambo Muira
Back to the Future 2 Griffs BMW
This one was made for the constest on the Hot Wheels Website, the Fabulous Hudson Hornet.
Gulf Laferrari
Long before the Retro Entertainment version , here is mine
Biff's Back to the future car
Because I was bored one night, an Initial D inspired Nissan 350x
Tillamook VW Bus, this one came about from one posting pictures of when the Tillamook VW's were stolen.
BMW 2002
More Porsches
Veneno Roadster
Another Custom Contest car, Cruella DeVilles cars from 101 Dalmatians
Speed Buggy, who doesn't love them some Speed Buggy
Here is another custom I had fun making, I had an old beat up Lesney Kind Size hauler, everyone needs a Ferrari Hauler so I made one out of it.
Secret Santa Custom for VW John
Gone in 60 Seconds Eleanor
\Eleanor inspired 2015 Mustang
And here we are my last custom made to date. I have a few more still waiting to be painted but until summer roles around Im not going to have much time to finish them
Fast Five Corvette Grand Sport (this one was made a few months before they released the silver version on the card)