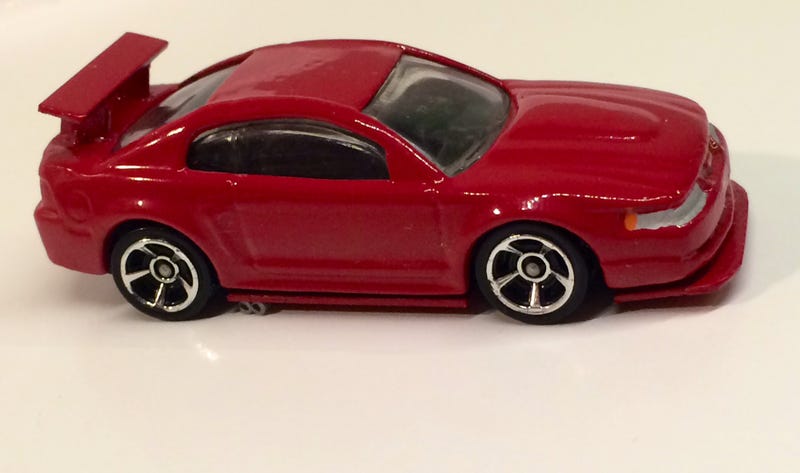 My long term custom project is complete! I spent a few weeks on this one. I wanted to do it right and not cut any corners.
I got this red '99 mustang from Mycarneverruns in a random act of kindness (thanks again dude!). My original intentions were to remove the silly Kung-Fu graphics so I could have a red Mustang to match the purple one I already had. But then I thought... Red mustang......
My all-time favorite Mustang: the 2000 Cobra R. Possibly the ONLY Mustang Hot Wheels hasn't made yet. I had to make one.
The first order of business was to make that fast and furious body kit.
Using my 1:18 Cobra R as a reference, I got a pack of styrene strips at a local hobby shop. It's very easy to work with, I cut a few pieces to length with scissors and then I was able to shape them with a file.
Not too shabby for eyeballing it! Using the strips of styrene, I built the rear wing.
The front chin spoiler was next. I shaped the contours to match the chassis and welded it together using some superglue.
The R also has a side exit exhaust. I cut up a finish nail and superglued them together after filing them down a bit.
Bam!
Now the fun part begins
The '99 Mustang had a deck lid spoiler, while the '00 R has a flat trunk with a wild wing off the back. I took a grinding bit and my power drill to it and ground it right down.
The next phase was to shape a powerdome hood and to smooth out the trunk.
I used some plaster as a body filler and it worked pretty good. I also had to fill in the exhaust cut outs in the rear bumper, because side exhaust.
A simple foam sanding block attacked the excess plaster and I patiently shaped and shaped.
Done.
I also took the opportunity to test fit the body kit. It was beginning to take shape! I glued on the rear wing and then it was ready to paint.
Unfortunately, I thought it was a good idea to apply a second coat of paint after a night of drinking. Big mistake. I rushed it and the paint came out wrinkled and folded. I had to strip the car back to bare metal to fix it. This ruined my plaster and rear wing... Don't drink and custom, kids.
My perseverance paid off though. I re-plastered the hood and trunk, applied primer and two coats of fire engine red, and glued on the body kit. I swapped on some five spokes from a Falken Supra to replace the three spoke sawblades. I glued on the exhaust tips and added some headlights and then it was finished.
I like the way this came out! Definitely my most complicated custom to date.