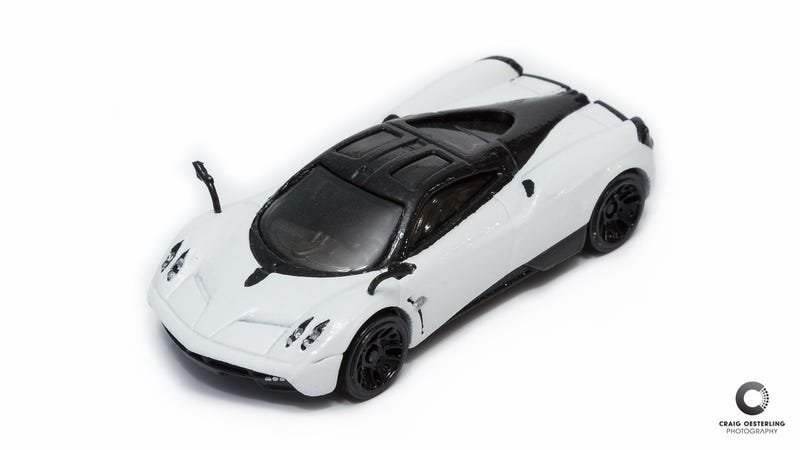 I've really grown to love the Huayra though it took me a little while to get to this point. I was tempted to buy one from Kyosho, but since the HW casting was pretty good I decided to customize it into what I wanted. This is one of my first true customs, from earlier in 2014.
This particular Huayra was the lime green version. As you can see, I added mirrors! I really like the stalks, but the actual mirror part is a bit rough. I used thin plastic and tried to just put a glob of glue on the end for the mirror. It spread out too much, so I had to trim it. I think I would have been better off just gluing some paper on it and cutting it to shape. Still, at this scale it looks good to the naked eye. I'm always a little surprised by things once I look at the photos, since they're being enlarged so much!
This one did not get the interior treatment. The windows are smoked, so I'm not sure how much color would show through anyway.
And here are my two Kyoshos! My first was the Ferrari F-40 GTE.
The next was the 458 Italia GT2.

As far as customizing goes, I painted the canards on the front of the Italia and painted the wheels a dark gunmetal (silver mixed with black). The interior was already pretty much done, sadly. I was looking forward to painting it!
The F-40 had an all-black interior (yay!) which required some paint. I painted the extinguisher in the footwell, the driver's harness, and that amazing engine. And I painted the bright silver wheels gunmetal, leaving the center hubs bright silver.

The engine was a little difficult as the x-brace is not removable. So I had to get the tip of my brush down under there very carefully, as you'll see later.

Painting the interior of this F-40 is what really got me started on doing interiors. It finishes out each car so well and is totally worth the time.
The following photos are from a previous shoot before I got the Italia.