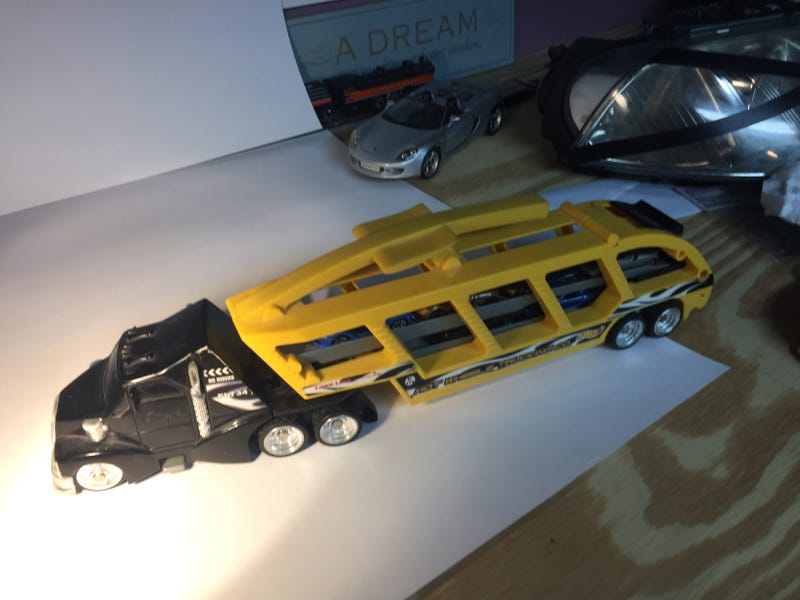 This evening I heard the characteristic whine of a quad turbocharged diesel V16 (why not), and then saw 2 truck loads, each filled with a weeks worth of quick customs. I figured I might as well share the unloaded goodies.

First truck load had an awesome international array of mean hyper cars, representing cars from Maranello, Stuttgart, Woking, Salnero, Detroit, and Sant'Agata.
First to be unloaded was a beautiful piece of Italian metal, a Reventon, clad in Centenario yellow accents, joining a similarly painted Sesto Elemento, and Veneno.
Second to be unloaded was the hybrid child, the incredible love child of Mercedes Benz and McLaren- Germany and Britain, a beautiful blue SLR, with an interior clad in the finest red and black leather.
Closing out the bottom row was a rare piece of Maranello metal, a beautiful sparkling black Ferrari Enzo FXX, clad in fine gold BBS wheels. Its said to be joining the owners similarly specc'd Testarossa, but it was unavailable for a shoot. Something about a restoration?
With the lower row all empty, the top row was then unloaded, first starting off with another fine piece of italian metal, this time from a small outfit in Salnero Italy. I'm talking about a fresh off the boat Pagani Huayra, complete in a beautiful selection of colors.
Next up was another fine example of Maranello Steel-or should I say carbon fiber? Another beautifully specc'd Ferrari, this time in Tour De France blue, complete with FXXK wheels, and an appropriately painted side scoop. This was only the first of the lucky owners amazing collection seen.
The Prancing Horse was quickly followed by another... Shall I say intrestingly specc'd example of German engineering prowess, this time a pure bred example of the cities finest manufacturing might- a beautiful bronze 918. To defend the color choice, it apparently this joins the owners similar colored 911 RSR, and 934.5.
Another example of a pure breed, this time from jolly ole England is this beautiful yellow accented Satin Blue P1, straight off the factory lines of Woking. Inspired by another example, this one is on P1 GTR wheels, and is a beautiful example of what comes out of Britain.

I started packing up my gear when I heard the murderous rumble of another car. First mistaking it for a V8, my ears deceived me when I saw an instantly distinguishable silhouette. The finest example of American prowess, a murderous straight-out-of-Detroit beast edged its way off the truck.

That's all for today, I'm expecting another shipment tomorrow, so Ill share the contents of that haul as they come off.
Authors Note: A lot of these cars are in their untouched up state but to conserve paint, I'm waiting till I have a couple cars of each color to touch up.