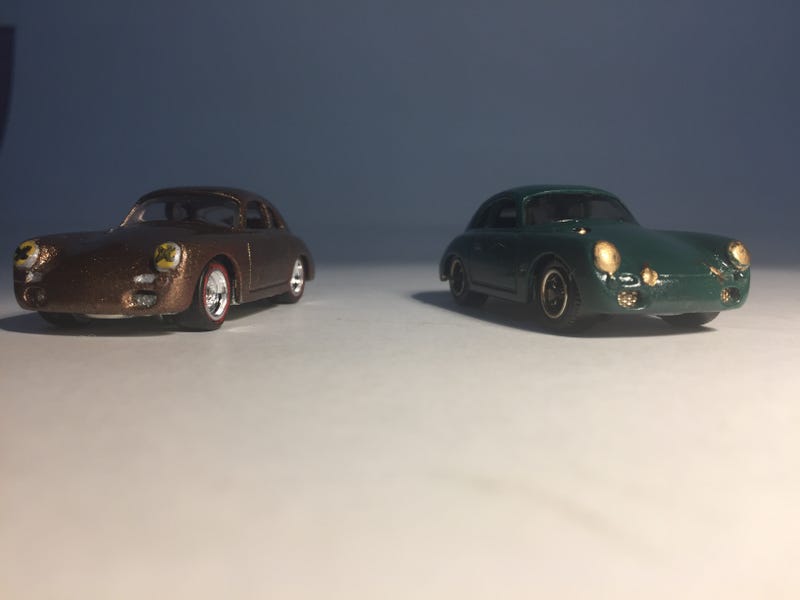 The Outlaw bug has bitten me and it bit me hard.
The newest creation to roll out of Herr_Quattro Kustoms (with K cuz I'm kool) is the beautiful green example as shown.

Like I mentioned in my previous post, since there are so many outlaws running around on LaLD, I decided to name mine to distinguish them from the rest.
The brown one on the right In the top image is named Lucille, and the newest creation I have dubbed Emily.
Unlike the shaved Lucille, Emily is essentially stock, with minor filing to casting lines. She has her louvers, hood straps, door handles, and rain gutters. She also went through several iterations of gold, satin blue, before ending up as a dark green.

Unlike Lucille, she has a basic plastic base with basic matchbox wheels. However I went back and took the gold to the chrome. In some places it's hard to tell but I swear in person they are definitely gold.
Im also particularly proud of the interior, which is my best one yet (even if it is still extremely basic compared to other ones seen on here)
I have another outlaw coming in the mail that will certainly need attention.

Finally, I leave you with a minor teaser for my entry into Noodles contest that requires a rollcage and NASCAR wheels.
(I swear those white lines are not scratches. It's just the lighting)