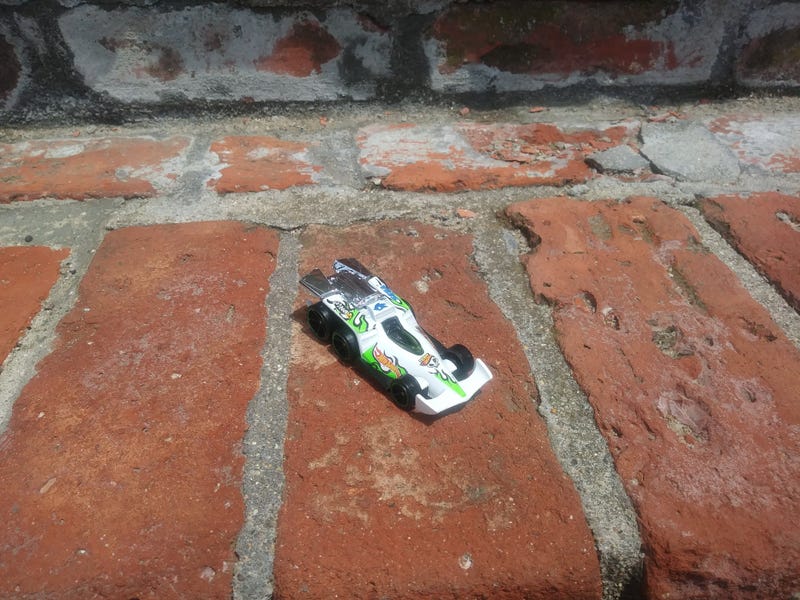 As of the 68th lap of the 102nd running of the Indy 500, Danica Patrick's motor racing career has come to an end.

Being primarily a NASCAR fan, Danica's abrupt prominence felt strange to me at the time of her Cup Series debut; I was not aware then how much she'd accomplished leading up to that. And as her career comes to a close, I realized that after all this time, I never did add a diecast of any of her cars to my collection.
There were plenty to choose from, from plenty of iconic moments: the Rahal-Letterman car she'd propelled to fourth place in the 2005 Indy 500, the 2008 Indy Japan 300 winning car, her Nationwide Series #7 (made in plenty thanks to having Hot Wheels as a sponsor), the Nature's Bakery #10 Cup car that got made into a diecast despite ongoing lawsuits with the sponsor, the wrecked Wonder Woman car she escaped unscathed, and now the Danica Double set of matching IndyCar and stock car. These are all ones I know her for, but not quite as much as one other ride.

A lot of my friends aren't into motorsports. They are, however, into video games. So rather than knowing Danica for her Indy success, her kinda-okay NASCAR Cup career, or any of her various brands she's carefully curated over the years, they know her chiefly for one of her greatest rivals and business partners:
Sonic the Hedgehog.
Lemme back up a bit.

In 2010, Bizarre Creations developed Blur, an arcade-style racing game with your usual items and power-ups, but less usually for the home market, going the route of including realistic cities and real licensed cars with these lasers and mines and such. The game's narrator was (a character voiced by) Danica Patrick. Blur was not a commercial success, positioned poorly against the competing Split/Second and undermined by an infamous ad mocking bright, colorful mascot racers, which backfired as those games' immense audiences now had reason to skip the title despite gameplay they might enjoy. The studio closed after their next effort, 007: Blood Stone, didn't help matters.
So by the time Sonic and SEGA All-Stars Racing was getting a sequel, much of that staff had migrated over to Sumo Digital, where they worked on Sonic and All-Stars Racing Transformed, a bright and colorful mascot racer. But of course.

Many of the item types from Blur found their way into Transformed, making it a sort of spiritual sequel to that as well as the previous Sonic racer, and one more thing carried over: Danica Patrick's inclusion, now playing the role of herself, the first actual human person to do so officially in a Sonic game. (Not the first time in Sonic franchise history, but that's another story.)
In 2012, she was making her way through what was then the NASCAR Nationwide Series, the tier of national series just below the Cup level, racing for JR Motorsports. As part of a promo for the game, she drove a Sonic-branded bright blue racecar at Texas Motor Speedway's fall race, with a firesuit to match. She appeared in everything from TV spots to tie-in comics leading up to the game's release, usually with that blue Chevy.

However, in the game itself, she instead drove this.
This is the Danicar, which, as the name implies, was co-designed by Danica along with Hot Wheels, representing both her own brand and theirs quite nicely. You can find a good few instances of the Danicar with plain yellow or red schemes, but this variant, based on the game's paint scheme (it's not an exact replica, especially with the sponsor decals, and the in-game vehicle is considerably different in shape), was only available at Gamestop with pre-orders of the game or as a mystery reward in their rewards program. I absolutely adored the game, but I got it for PS3 as a Christmas gift, so I missed that opportunity at first (and it didn't come back when the game got its PC release, when I also bought it again). So, only just recently have I finally gotten my hands on this. (Actually, three of 'em. Not sure what I plan for the other two just yet.)

I really love fantasy cars. I especially love when those cars are designed by the driver they represent, because you're not just getting a car with the sponsors they had once, you're getting something that actually represents them. Something closer, more individual. Danica's noted that driving is more her job, and that she doesn't really think about cars 24/7 like a lot of people in her line of work. To which I say, fair enough, but when your dream ride is full-on Tyrrell P34-esque craziness with a friggin' huge exhaust, you've gotta have SOME taste in cars.

This chrome back is gloriously excessively chrome. Looks about ready to blow the doors off the media center when it powers by.

I do feel a bit of sadness at the end of an era. But while she may be hanging up the helmet in reality, her virtual self is still right at the starting line every time the game's fired up. The rest might get parked in the garage, but this is the car that countless people will still be seeing Danica Patrick racing in.
It becomes more and more obvious as I compare the two that the Hot Wheels Danicar and the Transformed Danicar are two very different vehicles. As far as that inaccuracy goes, as somebody who's logged way too many hours playing that game, it can feel a bit disappointing that it's not exactly what I expected. But it's very much a similar case to Danica herself; perhaps not living up to the exact lofty goals hoped, but still genuinely impressive, so rather than be disappointed by what could have been, it's likely best to just be glad I got to witness it.