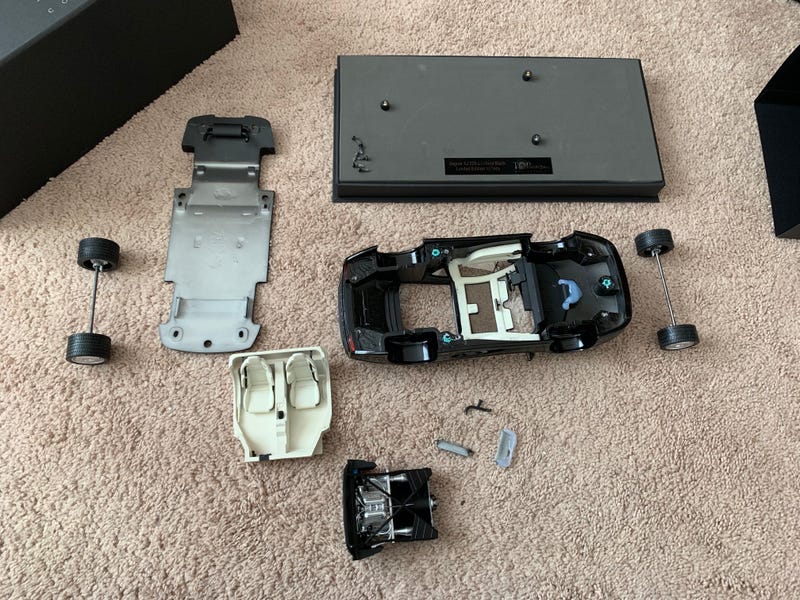 Pssst, hey kid... wanna see a resin mode taken apart?

This is a deconstructed Top Marques Jaguar XJ220. My first from the brand, and an eBay score early last fall for about 50% off retail. I haven't shared it with you guys yet because there were three broken pieces rattling around the engine bay when I opened the box.
I was disappointed, but the seller did give me $50 refund back. I finally cracked it open today and surprisingly found out that there isn't really much to these resin models as you would think.
Hold that thought though, the broken pieces were pretty easy to fix. Two of them were actually parts of the tab that held the engine bay in place. The other was a reservoir container that I had confused for a downpipe. I asked around on a 1/18 Facebook group I belong to and got some pics of the engine bays of their models to figure it out.
The different parts of the car where broken down to "sub-assemblies", so to speak. There was the body and the base, but also the interior was one piece, and the engine bay was another. Most of the Diecast models I've taken apart had the interiors attached the the base. The wheels are held together on a straight axel and the brake rotors have a tab to fit into slots on the body.
There were some other details, like the muffler, which are present but are in no way visible on the completed model. Lots and lots of glue residue though. Hot glue at that. So yes, this was a $200 piece of plastic held together by hot glue. I'm really glad it was an eBay find...