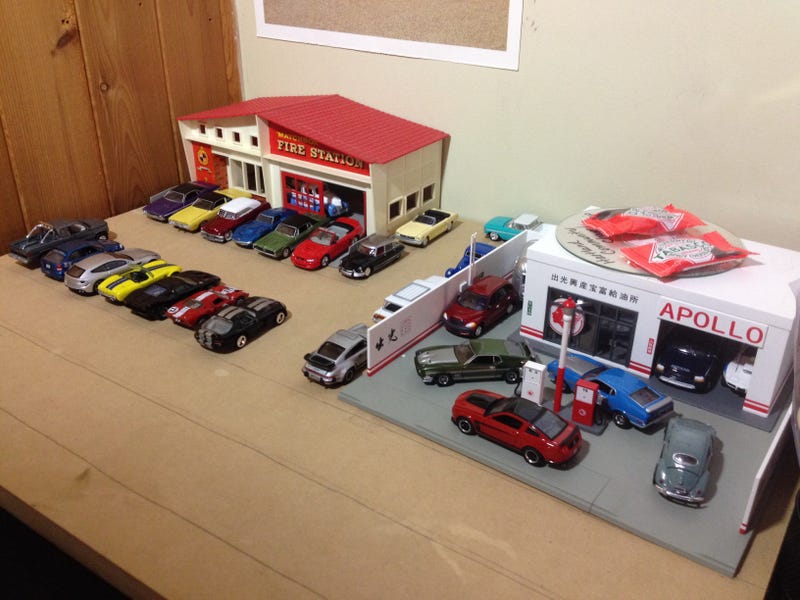 Sorry I haven't updated much as of late, but there has been some changes to the diorama. It probably doesn't look like much has changed though. So let me tell you what has changed, then I'll tell you what my current conundrum is.
If you follow the Missus Matchup series here on lald, you'd noticed the most obvious of changes, road lanes. I put them in as I was aiming to find out how much excess space is in the front, plus it gave MrsZtp guidelines as to where the roads are.
The other change is not so obvious, I've been steadily moving the fire house back and to the left. I've been trying to make a aisle to the right and in front of the building. This is to create space for cars to freely drive there, and make it more lifelike in appearance. Though it is suppose to look a bit crowded. I noticed that fire stations have big driveways for their engines, which accommodates just the engines, not necessarily parking spots for cars. Hopefully the diorama reflects that, :p.
Also, since the gas station has a lip, it's going right on the edge of the road, unfortunately this means a gap behind the building. That's one of the reasons I bought the two Greenlight hitch & tow cars, so I could put the trailers behind it to make it appear occupied (who said I didn't have foresight?).
Now, my conundrum. I need to paint the wood to make it look like cement, right? I'm just not sure if I should go with black or gray. Black is the most common color for pavement, but since it is black I am afraid future pics might not come out good with the black background. On the flip side, gray would match the plastic pavement of the two buildings, but it might be a worse color to take photos with.
I'm leaning towards grey right now, but I wanted to hear (read?) your guys thoughts. What do you guys think?