I've had a series like this in mind for a bit now. Problematically, however, I have been staying away from eBay for a bit now as my bank account and that site tend to be, um, at odds.
Anyway, here's the idea: I look up the best price I can find on eBay for a diecast and then I compare it to the highest price I can find for the Exact. Same. Product.
First up, the Red Baron. There was a tongue-in-cheek movement earlier when a poster declared you needed at least one Red Baron in your collection or you should have your LaLD membership revoked. Since this would include your humble author/Diecaster-in-Chief (and at least one other admin) I figured I should get on it. Although those original Redlines are pretty nice, prices are a little on the high side. Instead I settled on a RLC (Redline Club) HWC Exclusive from just 6 years ago.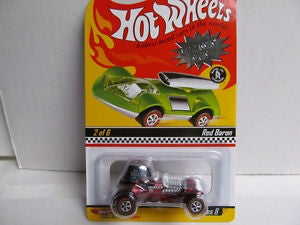 In 2009, this Red Baron was released as part of Series 8 of the "Neo-Classics". #2 of 6. It has the nice spectraflame, chrome helmet, and (of course) rides on redlines. However, it is also for "The Adult Collector" and "Not For Use with Hot Wheels Sets", according to the card. Too bad. Only 7500 made.
The price of entry for a carded (mint) version is currently at...
Low:
$1.99 + $3.99 Shipping
Sidenote: I've ordered from this guy before. Solid seller.
High:
$27.99 + $6.00 Shipping
To be fair that $28 is OBO and the seller probably will throw in a protective case. I say probably because this is the entirety of the listing description:
YOU ARE BIDDING ON CAR PICTURED
$5.98 Shipped vs. $33.99 Shipped
for a $28.01 difference
Not surprisingly I couldn't go even lower by finding a loose version of this model. It does feature a fancy hologram on the back and everything for you collector types. Yet I know my son and I would pretty immediately test out this "Not for use with Hot Wheels Set" claim.
I mean, what's the point of toy cars if you can't make them go through loops?