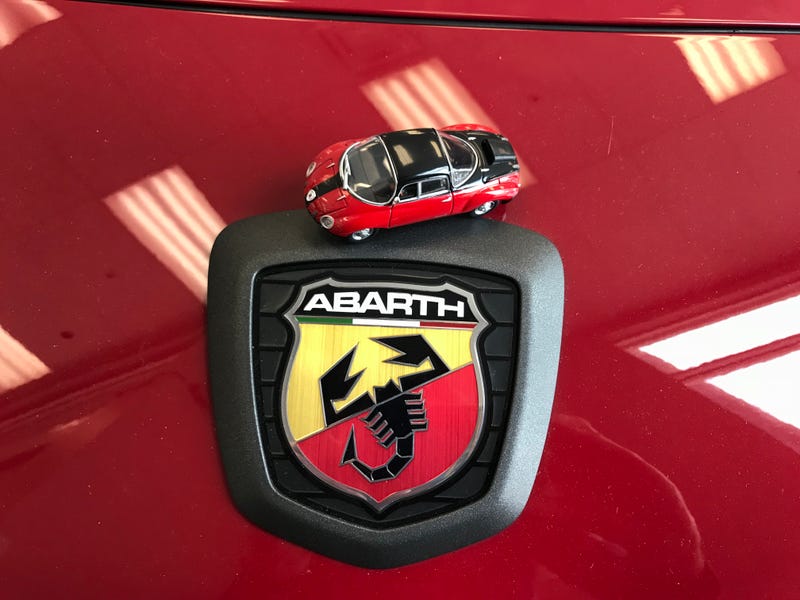 So many fascinating cars have carried the Abarth badge over the years. We're all familiar with the various Fiats, but there have been a few oddballs, too. And this one is my favorite, the 750 Vignale "Goccia." Constructed obviously by Vignale and with a weird aerodynamic body designed by Michelotti, it was purpose built to set a speed record for its class.
It was based on Abarth 750 which itself was a modified Fiat 600 and apparently got up to 93 mph which must have felt like light speed in such a tiny thing. That's also an incredible achievement for a little over 700cc's.
They were magicians at companies like Abarth and Gordini where they took these little economy motors and turned them into monsters.
Three Goccias were built, the first in '56 and another two a year later. The second pair did the 1957 Mille Miglia.
Some sources say that this was considered for production, but Zagato's Double Bubble was chosen instead. But, the Goccia doesn't look like a production car to me.
This is one of those Mille Miglia cars as the first one had gullwing doors.
It's actually very similar to another car Michelotti designed around the same time, the Frisky microcar whose prototype also featured gullwings.
The model is a 1:43 by Hachette and it's pretty nice for being relatively cheap.
The wiper doesn't lay flat, and the paint gets a little fuzzy between the two colors around the rear, but there are some nice details like the "ABARTH" script on the bottom of the motor that peeks out from beneath the body.
I've never seen one in person, but it's become one of my favorite cars since first learning about it. There's just no other car that looks, or probably performs, like it.
2 of the 3 survive, one in Japan and one in the U.K., so hopefully I get to experience its awesomeness at some point.
Ciao!