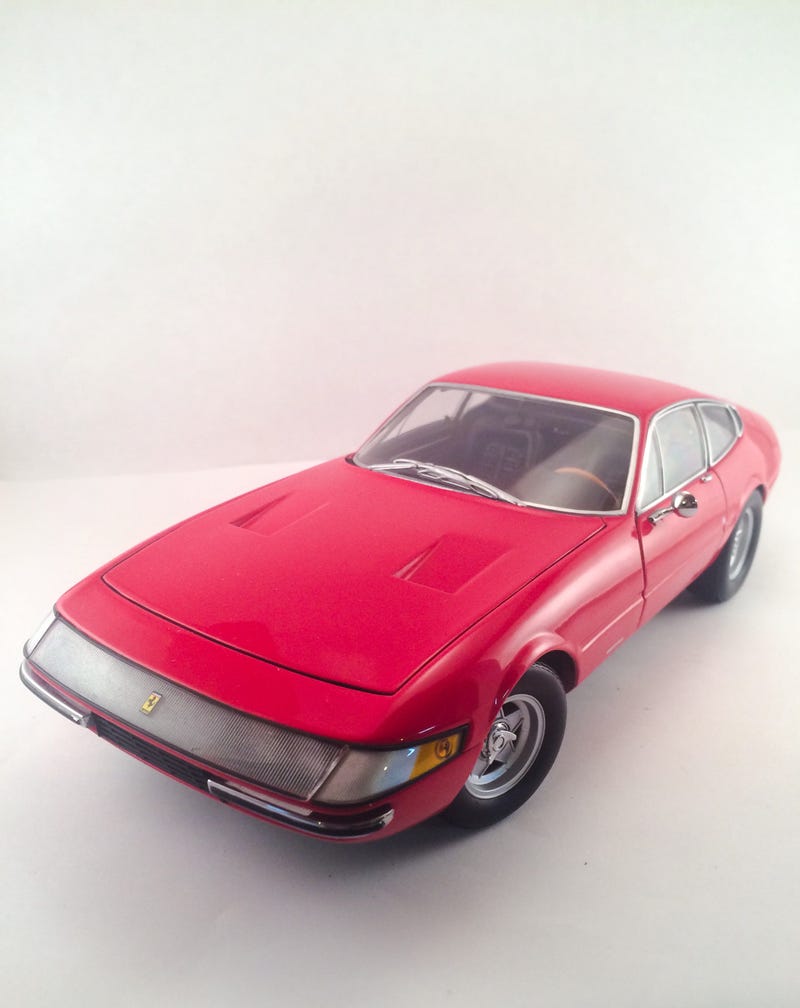 This is the Ferrari 365 GTB/4, also known as the legendary Daytona. This model is a collaboration between Kyosho and Hot Wheels; I'm pretty sure it's built by Kyosho, but licensed by Mattel. At least that's what the bottom says anyway :/
Design and Accuracy: 9/10
This appears to be an earlier Daytona. The first cars had their headlights behind a piece of acrylic. The later cars had the much sexier pop-up headlights with body-color matching nose panel. It's less desirable in my opinion, but at least it's accurate! Important details like the prancing horse on the turn signals are all that matter.
The interior is classic 70's Ferrari. The wooden steering wheel, the gated shifter, and the padded leather seats are very accurate. My main gripe is that everything is too black. Classic red on tan would have looked awesome. If you look hard enough, there is carpet in there. The rear deck also features luggage tie-downs.
I wish one of the hood struts wasn't broken... SIIIIGGGHHHH. They are actually functional struts, which is cool, and I'd imagine they would hold the long, elegant hood open. Unfortunately, somewhere along the line the retaining pin broke. Luckily, my hands still work, so I can still show you that classic Colombo V12. Details like those two huge canister oil filters, plug wires, and brake servo look incredible, and dat battery is amazing! Seriously, the battery is wicked detailed.
Fit and Finish: 6/10
Well you already know about the hood struts. Some of the panel gaps are so-so, mainly that huge hood. The acrylic headlight center piece has some scratches in it. The truck lid needs to be muscled open but snaps shut, it's not fluid. It's cool though, they carpeted the trunk.
Features: 7/10
The deck lid lifts to store 1/18 groceries in the carpet lined trunk. Both doors open; the door handles aren't functional, but are useful to open the doors. The interior has carpet too! The hood has functional struts, I'm sure they would hold it up.
Value: 7/10
I'd say this is an upper mid-level model. It doesn't seem as nice as my Kyosho NSX or Jota, but definitely a notch above my Maistos and Hot Wheels. Like I said, this was a Christmas gift, so I'm not sure what the price was then, but I'd guess $80.
Rarity: 7/10
As you can imagine, there are a ton of Daytona models out there. eBay and Amazon have a multitude of road cars, spyders, and competizione coupes ranging from 1/64 to 1/18. I was only able to find one identical to mine on eBay, sealed and unopened just like mine for $600!!! LOL! (Wait, what have I done!?)
Total: 36/50
Should you get it? The Daytona is an essential in any Ferrari collection, but personally I'd rather have one with pop-up headlights. And wire wheels. And tan interior. Kyosho did also make a later Daytona.
Argh it's so broken!!!