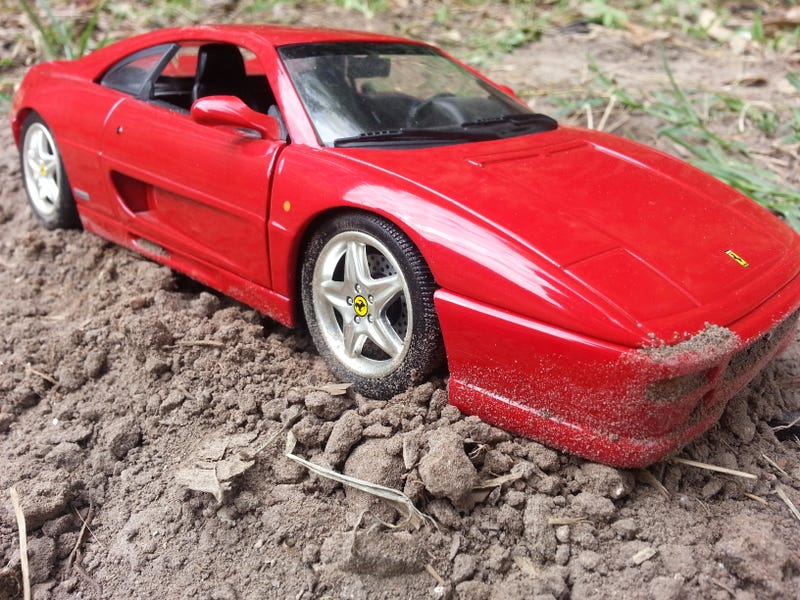 Timeless design, but not the best off-roader if I'm honest.
The Berlinetta was introduced in May 1994 as the first in a successful series of F355 models. Initially, the 6-speed manual was the only transmission available. However, in 1997, the Berlinetta was the first ever road car to be equipped with the innovative F1-style gearbox management system. Derived directly from Formula 1, where it made its debut in 1989 winning the Brazilian Grand Prix, the electro-hydraulic system was operated by paddles behind the steering wheel using the F355's conventional 6-speed manual gearbox. The new transmission guaranteed lightning-quick gear changes, with the additional advantage that both the driver's hands could stay on the wheel at all times. Ferrari produced 4,871 road-going Berlinetta models during the entire production run, of which 3,829 were 6-speed and 1,042 were F1 transmissions.
(source wikipedia)
Now, to the die-cast world. This car is from a HotWheels Elite.
Accuracy and Design: 7/10
Scale wise everything seems good. All the vents and lines are top notch and where they are supposed to be. The decals are very good and they get a solid B in the details inside and all around. Undercar is very good as is the engine bay. All in all, it is just really good... but no AutoArt :] The weather again was not cooperating with me. In the few times I had real sunlight, the paint is absolutely sublime!!!!
Fit and Finish: 7/10
For HotWheels Elite, everything is really good in my opinion. Even after a day of off-roading, she is in top shape. There isn't any noticeable deformities besides maybe the boot lid having a bit of a gap. It is actually made of plastic like the front bumper.
Features: 4/10
Welp, it has the normal things like opening doors, read boot lid, and the nice steering function. I have been spoiled lately with all the other review cars you LaLDers post with the functional pop-up headlamps and such. This doesn't have active suspension of an opening front bonnet.
Value: 7/10
I got mine for around $35 on auction I remember on Ebay. Most are not red and are around that price but a red Elite is more in the $50- $65 range where high quality brands are much more.
Rarity: 5/10
Not too rare at all. If on a budget, a red Elite might give you a hard time but they are everywhere on the internet so no biggie.
Total: 30/50
Should you buy it. Yes! it is essential for all Ferrari collectors. Should you off-road in one... NO :]
I still can't find little 1:18 Ferrari fender Escudos. I have several cars that need them. not sure why some Ferraris have them and some don't.
Thanks for reading and until next time.