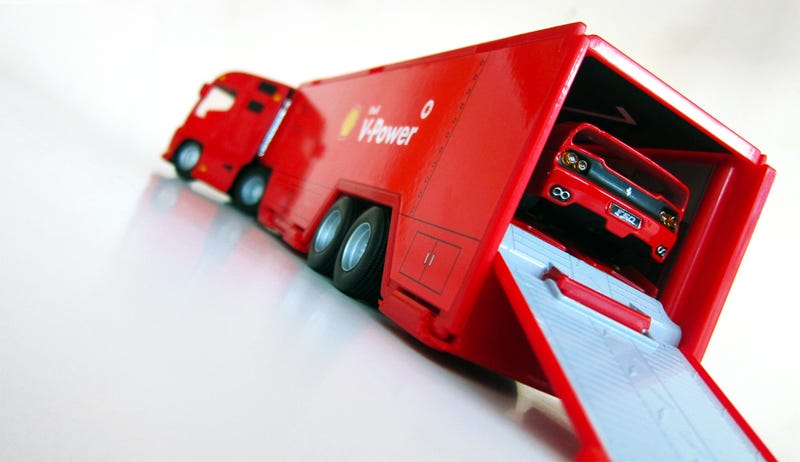 So, My local Shell brings up this promotion where you could redeem points to get Bburago diecasts (and kits) to play with.. i have with me, the biggest (and most expensive at ~25$, plus 30 Liters of fuel).. let's see if its worth the price..
first, the Box.. (i forgot to photo mine, but mine's already ripped, since there's SO MANY zip ties, rubber ties, wires and cellotapes to deadbolt the model to the box (pandering to the mint-hunters i think..))
The full promotion..
and now for the hauler..
the trailer behind could be opened, revealing a car lift, a dyno, a trophy room, and some tools..
Play features includes opening ramp and manually operated car lift..
The Dyno.. it'll be sweet if they made something that could be moved like the real thing.. but alas..

Also included are 2 pit crews and some tools, with IMO, horrendous detailing job and cheaply made too.. (with some detailing done, the pit crews might come out okay.. might need to reach out to my table top gaming friends.. sigh)

a close up on the truck.. (anyone knows the make of the truck, looks very European..)
here's the 'Parking Lot' filled, with help from a certain Mr. Kyosho and Mr. Ebbro (can you tell which is which?)
And, finally, a look at the F50..
Overall, the F50 is good, though a few things held it from achieving greatness.. the first and foremost is the Godawful tires, it looks like it came from a cheap dollar store knock off toy.. the second part is the thin plastic they use for the windows, its flimsy and creaks to the lightest touch..
All in all, a good but slightly overpriced set, though the play value (and prop value) for the set is admittedly high.. also, the market is hiking the price like nuts, but expect the price to die down a couple of months from now..
that's all from me, thanks for clicking, and see you soon!