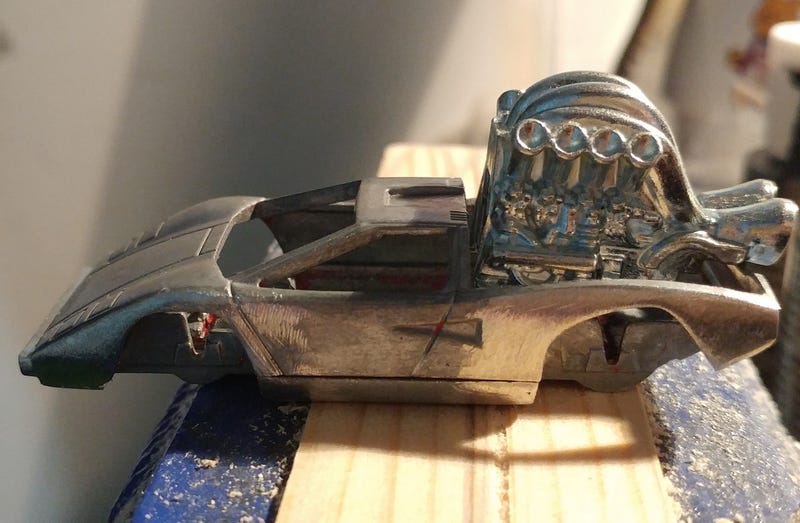 I am currently working on an interesting build for a custom competition, and I thought I would give you guys an update on where we stand so far.
The competition is run by a dude on Instagram who seems kinda obsessed with Lamborghini Countach models. Basically he picked 20 customizers from around the IG-sphere, sent them each a Hot Wheels Countach, and told them to do whatever they feel like to it, send it back, and get voted on to see which is best.So here's my entry, what will soon be a Lamborghini Countach LP400 Shooting Brake.
I started with a sketch, for once wanting to NOT just go straight to cutting, so I printed out a Countach image, traced most of the bodywork, and sketched a shooting brake top on it.
I then cut out the rear hatch and wing, before someone suggested going for the much cleaner early-70s LP400 look, so off came the fender skirts. Much better!
This LP400 idea actually helped me a lot on the wheel front, because I now realized I had the perfect wheels for the job: the 3d printed Campagnolos I got for the Alfa Giulia are marvelously close to the stock LP400 wheels. Some staggered rubber later, and we're all dialed in.
I thought I was going to build a support skeleton out of brass, but after a few prototypes I gave up on that idea and went straight for the styrene. On such a small scale it won't have to endure loads that would distress 1mm styrene too much. Hopefully.
So far, I have one side fully glued in and sanded smooth(ish). The plan is to either reuse the intake scoops I cut off of the car, or fabricate some new ones, so the sides will still have the characteristic Countach look to them.

After the whole roof is finished, I also plan on adding some popped-up headlights and a custom exhaust, so the work is far from finished!

What do you guys think so far?
If you would like to follow along, and vote after 2/19/2018 once the voting starts, the guy running it is @chasillac_hotwheels and the competition hashtag is #customcountachchallenge.