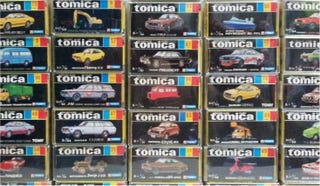 With a pic for clickbait (nobody is receiving black box Tomica :) )
Everything has shipped - nearly 20 packages, it was no small feat as might be shown by my inconsistent handwriting quality. People should be receiving their allotments from within a few days to maybe a few weeks, as I chose the cheapest shipping option, and some are more distant than others. I discovered there's definitely a difference between shipping a 11 oz package and a 1 lb package.
I am not looking for any money for the models, as to me, most did not have much market value anyway. I tried to tailor the selections to individual tastes, but it was easier for some than others. If you like what you receive, chip in for postage. If not, then don't, no pressure, they are yours to keep.