I said I was done buying models for the year, but when eBay is hot, it's hot! Here's one of several classic diecast models I've been able to hit the jackpot on. September has been a very good month to me, and we're only ten days in...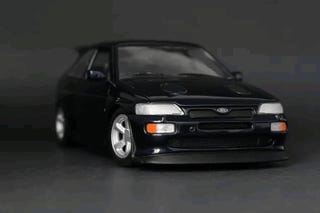 This is the Ford Escort Cosworth from UT Models. As you all know, I love me some UT Models. They were the AutoArt before AutoArt was AutoArt. Most of the models are as old as our youngest LaLDers, but you can't beat the details, car selection, and price!
The Escort was never a car I intended to add to the collection, but eBay recommended that I watched this particular auction. Surprisingly, I was the winner at a low $37! It had been displayed before but still had it's original box. Sadly, the hood came off during it's delivery to me (blue painters tape is not good enough, people!) but I was able to get it back in without issue.
The iconic rear double-wing is wild, but the rear hatch does not open. The interior is fully detailed albeit a little dusty. The lenses are all fantastic as are the tampo printed badges. One flaw that stands out is the classic UT flaw: brake rotors but no calipers!
I know that Minichamps also produced one of these bad boys, but good luck scoring one for less than $40.