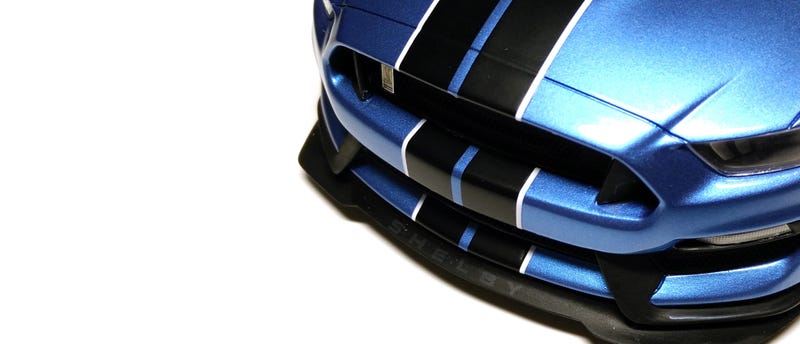 This just in.
It's GT Spirit's Shelby GT350R in 1/18 scale. When they first announced this model in its initial white-with-black-stripes colorway, I was dumbfounded on why they would choose the most bland (blandest?) color for a beast like this. I mean, at least change those black stripes to blue and we would have a deal. However, GT Spirit is known to release exclusive colorways to dealerships as well as to continental European and Asian hobby dealers, without any sort of announcement or fanfare (for example, chaozbandit's silver Nismo GT-R is an Asian exclusive whereas my white one is a general release). I had a feeling the signature blue of the GT350R would appear at some point or another, so I held off on the white model.
And guess what, here it is.
The blue is, I believe, a European exclusive limited to 500 pieces as is normal with GT Spirit's exclusive colorways. It sounds really limited, but they won't be sold out anytime soon, so take your time (another example: the European exclusive matte grey Nismo GT-R has been sitting for about half a year now and can actually be had for cheaper than the non-exclusive white). And if you haven't converted to resin, perhaps this model will tip your scales. What we have here is essentially an identical copy of the real car, just shrunk down eighteen times. GT Spirit seemingly can do no wrong when it comes to its scale models.
I was surprised to have this model arrive at my doorstep this afternoon. DHL's tracking is super suspect and offers no details on where your package is or when it may be delivered. I had to unleash the beast and do a photoshoot right away. You know you're in for a treat when you open up the outer cardboard box and smell the scent of fresh styrofoam. I couldn't refrain from muttering to myself when I unboxed it - phrases such as "holy s—-" and the like started spewing out my mouth. Seriously, this is such an epic model of an epic car.