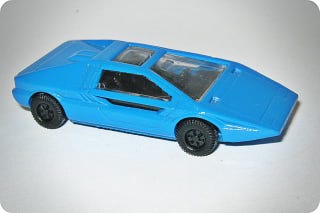 I presume most people would have never heard of Masudaya. That's despite the fact that they are probably the oldest toy maker still in existence. The company goes all the way back to 1724 - a staggering 293 years!
But diecast cars were never their focus. They are well known however to the collectors of vintage tin toys. They also were the first company to come out with "soft air" guns for skirmish players back in the 1980s.
Today, they mainly focus on toy trains (rather than scale models) - you can check out their products at www.masudaya.com - but it's nothing that will appeal to collectors much.
These little diecast kits here date from the early 90s (I think) and I really don't know much about their background. Being HO scale, I'm thinking they might have been tied in with one of their model train offerings - but I'm really not sure.
They are pre-painted and simply snap together from just a few parts. And they provide hours of entertainment as they fall apart again almost immediately. I really had a hard time trying to takes pictures that showed them in the assembled stage.
They must have been pretty popular though, as they still can be found quite easily on ebay and on Japanese Yahoo auctions. So why did I bother with these? I have no idea really. I found a set of three for cheap locally, and then decided to complete the set for no apparent reason. They just have that oddball appeal I guess.