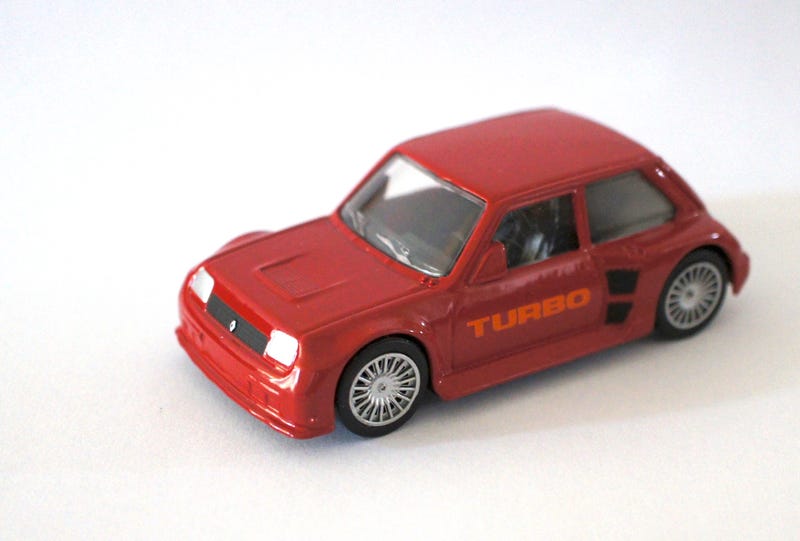 I did a Renault 5 Turbo post before. And I'm not the only one having one in my collection either because it's a bit weird but totally awesome car. What's not to love. So when I was in Italy last week and I ran into a series of "vetture Francesi" from Mondo Motors in 1/43 I had to grab some.
Especially while these are incredibly cheap, in a totally expensive area (near the beaches of Finale Ligure) these still won't go over 4 euros each! So no: it wasn't the only French car I took home, maybe I'll throw some sort of hawl-post in this weekend to support Jeff's Hawl week.
Sure it's not the best 1/43 I got, this definitely isn't a collector's object but a child's toy. Look at those side-mirrors, what's that all about? And come on: Painted headlights on a 1/43? It's 2015!
But the epic lines of this ultimate hot hatch (it probably isn't even a true hot hatch as the rear hatch is actually the engine cover, right?), the entire idea of this French big-ass masterpiece makes it a car many love. And so for those 4 euros...
The story behind the R5 Turbo is a well known one so I'll just let the pictures of this awesomeness do the talking!
C'est ca! Italy was a blast, I'm still amazed the car-culture over there is so totally different than over here in the Netherlands but that's something I'll probably tell more about in that Hawl/Holiday post. Bon Week-end!