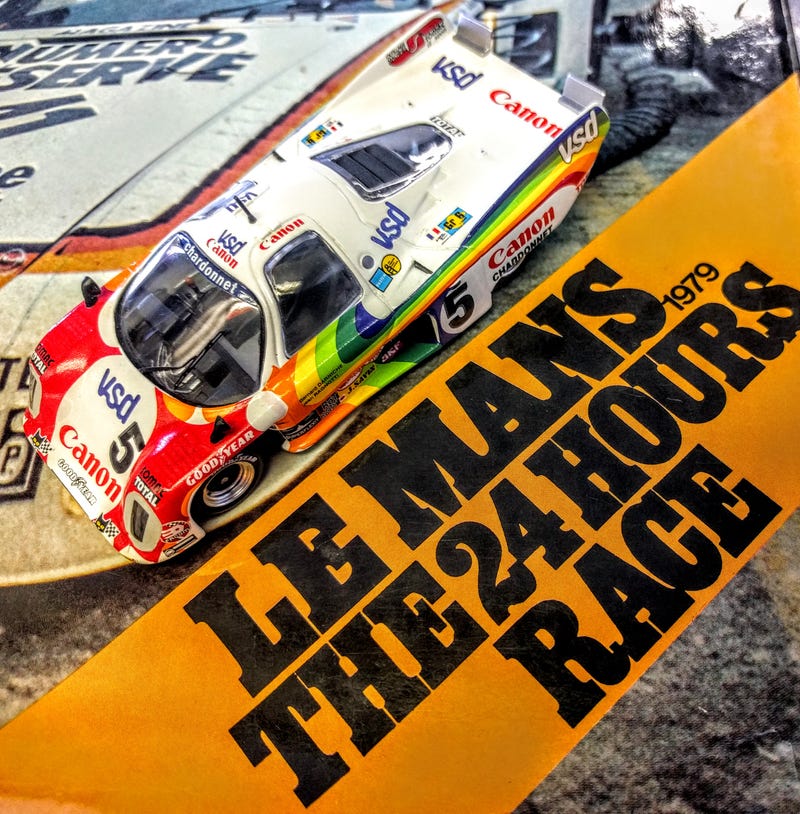 The Friday before Le Mans finds me giddy with anticipation like few other days, so excited am I for the race. Yesterday's qualifying was record-breaking, with Toyota's Kamui Kobayashi smashing the lap record by over 2 seconds, at 3:14.791, and LMP2's running times that would have bagged overall pole only a few years ago. Truly incredible, this is a golden age of prototype development we're in. Looking forward, 2020's rule package looks to make things interesting (hat tip to Engineerrrrrrrrrr for bringing it up on Oppo this morning). I have to wonder how more mandatory electric-only operation will affect lap times, I can't imagine they'll be breaking any records, at least not for a few years. Anyway, moving on, to another golden era of prototype development, the late 70's:

You may recognize this shape, it's a Rondeau M379. I've shared its heritage before, beginning with the Inaltera LM before last year's Le Mans.
Powered by a Cosworth DFV ( and later DFL) V8 run through a Hewland 5-speed, the Rondeaus were always in contention to upset the major players in the event they faltered. As with the Inaltera, the M37x chassis were of tubular steel and used aluminum sheet to complete the monocoque. Various aerodynamic changes were made through the years, with the type ultimately gaining a full width rear wing and inboard suspension as a stopgap until Rondeau's ill-fated and silly looking M482 debuted. The 379 would, of course, win Le Mans in 1980 driven by Jean Rondeau himself and Henri Pescarolo, the only time a car's constructor has won Le Mans in his own car.
This car, chassis 379-002, managed a spectacular comeback in a race that is mainly remembered as the Le Mans that a GT car won, the famed Numero Reserve Kremer 935K3. At one point classified in 52nd place, Jean Ragnotti would put in a masterful drive in wet and slippery conditions, which suited the rally pilot just fine. Bernard Darniche, his co-driver, did not care for the conditions at all but did his time and kept the car on pace and they would finish 5th overall and 1st in S, the Group 6 class. The quote on Ragnotti's performance in the 1979 Le Mans yearbook is perfect:

"Although Bernard Darniche says he doesn't care much for the wet his co-driver Ragnotti revels in it. Water, oil, grass, or anything else makes a good excuse for the spins, slides, and general acrobatics which are his normal means of progression"
Couldn't have put it better myself!
Chassis 002 would only ever race 4 times, all at Le Mans, and had a good history there, with 1979 being only the first of three top-5 finishes. It would finish 3rd in 1980 and second in 1981, first in class both times. But wait, I hear you probably not thinking, how did two M379s win two different classes at Le Mans in 1980? They were built to both Group 6 and GTP spec, essentially the same car with ballast added for GTP. Rondeau hedged his bets, basically, since Renault or Porsche were practically guaranteed to win Group 6. One way or another, there was a good probability Rondeau would bag a class win at least. Clever, oui?

As it happens, all three of the above cars were driven my monsieur Ragnotti. Why wasn't he in a Rondeau creation in 1978? He was in the Calberson Alpine A442 from a couple of weeks ago. Can't blame the man for jumping into that machine. So, three Rondeau Le Mans cars from three different model brands. The Inaltera a Bizarre, the 379B an IXO, and this 379 a Quartzo, part of the recent shipment from Jobjoris. This Quartzo shows the taped-up headlamps, which I suspect were done to reduce glare from the full lamp housings and focus the beams a bit in the harsh weather of the '79 race. The colorful livery is just beautiful, and suits the car's lines well. The Quartzo is very close to the IXO on quality, with just a couple of messy decals holding it back. Excellent for the price paid.

More on Ragnotti soon, this isn't the only of his machines that crossed the Atlantic recently so I think it's time I jumped on the driver feature bandwagon with he or Pescarolo! For now, enjoy an M378 ripping around La Sarthe at the 2014 Le Mans Classic, from MotorsportVideo:

Oh, so good. Now on to the rest of the pics:
More Le Mans cars coming over the weekend, enjoy the race!!! Much as I love Porsches, I'm hoping for a Toyota victory, they deserve it.
Thanks to RacingSportsCars.com and UltimateCarPage for the solid history