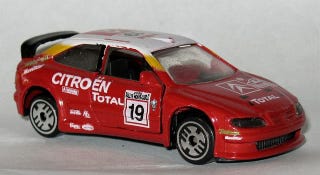 Seeing that I posted about Guisval and their Rally cars yesterday, I thought that I might as well show one today for French Friday.
"Kit Cars" were a lower category of Rally cars - 2WD, naturally aspirated - the competed in the late 1990s. And the Xsara Kit Car was considered the best machine in this class.
Kit Cars ran as a category from 1993 to 1999 in 1600cc and 2000cc classes.
The series was dominated by SEAT (which is probably why Guisval focused on this segment) - although the Citroen at some stage was considered to be the best car available.
It demonstrated how good it was by winning the 1999 Rallye Catalunya and the Tour de Corse outright - ahead of the supposedly higher class WRC cars!
Regulations were changed, and the Kit Cars became the Super 1600 and Super 2000 series. But while the Kit Cars seem largely forgotten today, there's a ton of cool videos from that time on YouTube - like this one: